Pat's Photo Gallery





GALAPAGOS PHOTOS START BELOW ON THIS HOME PAGE

2019 Trips
Bergamo, Italy to Innsbruck, Austria Hiking Trip - August 4 - 17
Bolivia and Colombia - January 31-February 19

2018 Trips
Portugal and Spain - September 30-October 16
Cuba - March 2018
Czech Republic, Slovakia, Hungary - May 23-June 6
Alaska - June 12-23

2017 Trips & Activities
Iceland Hiking - June 2017
Chihuahua Lake - August 30, 2017
Indonesia: Bali, Java, and Komodo Islands - September 10-October 2, 2017

2016 Trips & Activities
Southern Africa - South Africa, Botswana, Zimbabwe, Zambia, Namibia - August 23-September 15
Ridgway area hiking trip Southwest Colorado - July 24-29
Flaming Gorge National Recreation Area - May 15-19
2015 Trips & Activities
Venice and the Dolomites - September 1-14
Crossroads of the Adriatic - May 23 - June 12
Roxborough State Park snowshoeing - February 28
Snow Mountain Ranch - January
Second Creek Snowshoe - January 8

2014 Trips & Activities
Kenosha Pass West - September 24
Hiking Across Rocky Mountain National Park - September 4
Mont Blanc Circuit - July 4 - July 20
New York, Holland and Belgium - April 19 - May 6
Iceland and Northern Lights - February 24 - March 1
Jennifer Damp 9th Birthday Pool Party - January 11
Second Creek Snowshoe -January 2

Links to 2013 Trips & Activities
Sunrise over Denver - December 18
Baltic States, St. Petersburg, and Moscow - September 26 - October 14
Impact of flooding on Ouzel Falls area - November 2
Buffalo Meadows Loop - September 21
Watrous Gulch to Machebeuf Mountain to Herman Gulch - July 17
Butler Gulch to Stanley Mountain Trail Loop - July 16
Black & Blue Lakes, Rocky Mountain National Park - July 13
Ypsilon Lake & Marmots & Deer - June 16 and 23
Madalyn Gilmore First Birthday Party - June 22 (BD is June 23)
Baker's Tank trail - June 13
Slide Show from Sam's Memorial Service In Tokyo - May 27
Sam, the owl - April 20
YMCA of the Rockies RMNP - March 5-8
Patagonia - Part I, Chile - February 2013
Patagonia - Part II, Argentina - February 2013
Second Creek Snowshoe - January 3

Links to 2012 Trips & Activities
Two hawks behind my home - November 5
East Inlet trail in Rocky Mtn National Park to Lone Pine, Verna, and Spirit Lakes - October 20
North Inlet trail & Nokoni Lake in Rocky Mtn National Park - September 29
Leadville Hostel hiking trip September 23-26
Chicago trip - September 15-19
Mt Princeton Climb - September 8
Cascades Mountain Range Vacation - August
Walter's Cabin Summer Hut Trip - July 25-27
Distant view of mountain goats at McCullough Gulch - July 18
Continental Divide Crossing - Rocky Mtn N.P. - 16 miles round trip - July 11
Madalyn Rose Gilmore born June 23
Same area as link below 2 weeks later, same ptarmigans, different color - May 5
Off trail above Lake Helene in Rocky Mtn N.P. - April 21
Myah Gilmore 2nd Birthday Party - January 22

Links to 2011 Trips & Activities
Nepal - October 2011
Bhutan - October 2011
3 Mile Creek & Abyss Lake Trail Loop - September 28
Junco Lake - September 24
McCullough Gulch - August 17
Sugarloaf Mountain & Hell's Hole - August 10
Caribou Pass Trail - August 7
Herman Gulch & Herman Lake - August 5
Bavaria, the Tyrol & Salzburgerland - Part 1: Munich, Germany to Seefeld, Austria
Bavaria, the Tyrol & Salzburgerland - Part 2: Seefeld, Austria to Salzburg, Austria
Ouzel Lake & beyond - Rocky Mountain National Park - July 2
Lawn Lake & Black Canyon trails - June25
Crosier Mountain trail - June 8
Rattlesnake at Mesa Trail - June 4
Norman Oklahoma Reunion - May 13-16
Second Creek Snowshoe - March 10
Myah Gilmore First Birthday Party - January 22
Lily Pad Lakes via Salt Lick Trail - January 24

Links to 2010 Trips & Activities:
The Route of the Maya - Trip to Central America - November 9-26
Black & Blue Lakes, Rocky Mountain National Park - October 16
French Pass Trail, Colorado Mountain Club - October 14
Four Bears at Estes Park - September 25
New Hampshire & White Mountains - June 12-26
Bighorn Sheep at Rocky Mountain National Park - May31
Moose at Rocky Mountain National Park - Fern Lake trail - May 8
Trip to Winter Haven Florida Area April 8-12
Jewel Lake Snowshoe - March 21
Animal Buddies: Nash and Amy
Myah Elizabeth Gilmore - Born January 22, 2010
White-tailed Ptarmigan at Black Lake - Rocky Mountain National Park
Links to 2009 Trips & Activities:
Diamond Lake, Jasper Lake, Devil's Thumb Lake Loop - July 22
Fawns at Roxborough State Park
TURKEY MAY 2009
Peru Creek & Keystone, Colorado Area January 31
Links to 2008 Trips:
LAUREL & TONY GILMORE WEDDING SLIDE SHOW
ZION & BRYCE N.P. TRIP SLIDE SHOW
DEMOCRATIC NATIONAL CONVENTION PHOTOS
LAKE TAHOE SLIDE SHOW
IRELAND PHOTO PAGES
GRAND CANYON PHOTO PAGES

Links to 2007 Trips:
CANADIAN ROCKIES 2007 PHOTO PAGES
MISSOURI LAKES COLORADO CAMPING TRIP
CLOUDCROFT AREA, NEW MEXICO MAY 2007



GALAPAGOS ISLANDS, ECUADOR - APRIL 2007
Page One of Nine - Link to Page Two at the bottom of this page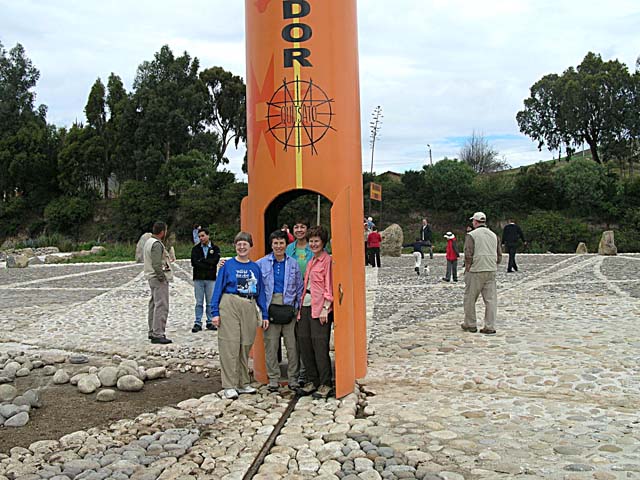 Shirley, Pat, Margaret, and Heather at the Equator - 0 degrees latitude and 0 degrees longitude
We spent two nights in Quito, Ecuador before flying to the Galapagos Islands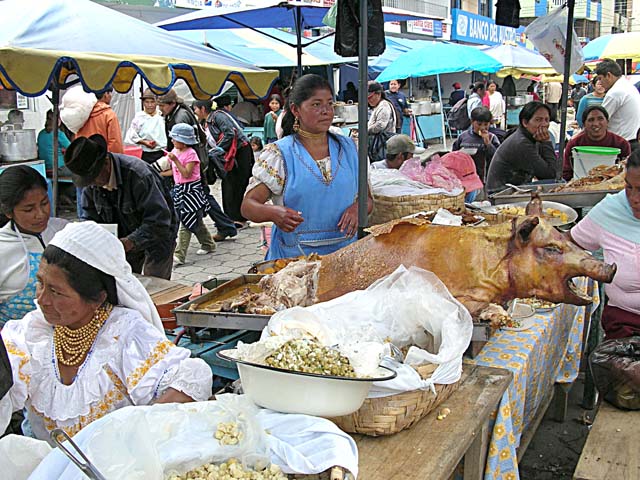 Otavalo Market near Quito - dates back to pre-Inca times, when jungle products were brought from eastern
lowlands and traded for highland goods. It's now both a local market for buying and bartering animals,
food, other essentials and a craft market for visitors. Yes, that's a pig.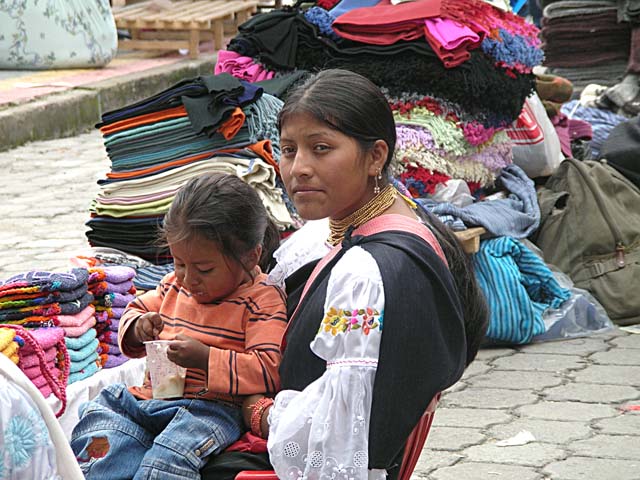 Vendors typically have their children with them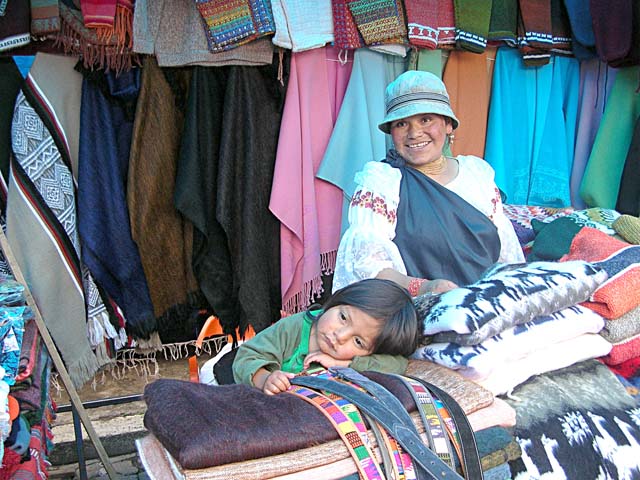 Woman from whom Shirley bought a beautiful jacket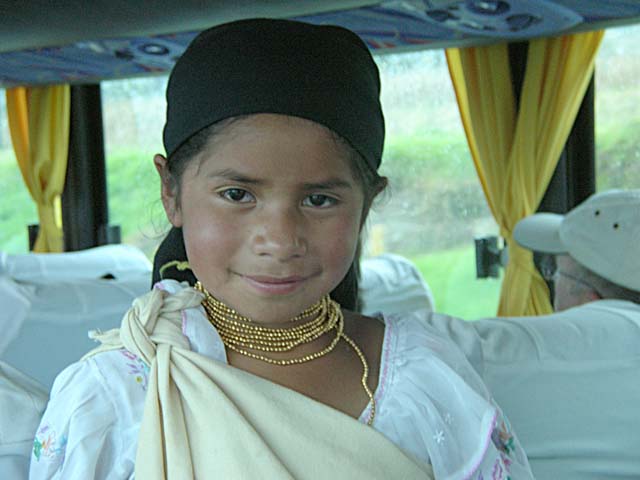 Young girl at Otavalo who was selling dolls and sang to the tour group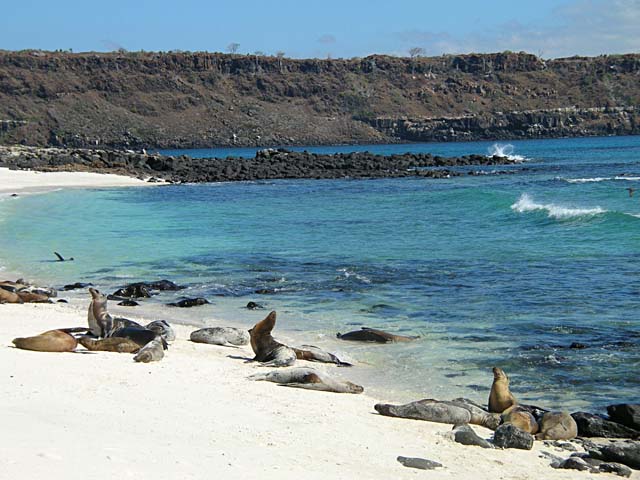 Sea lions on the small island of Mosquera in the Galapagos Islands - Galapagos National Park
Consisting of 13 major islands, 17 smaller islands and more than 40 rocks, the Galapagos National Park
preserves an unique environment. The Galapagos comprises 3100 square miles, which includes 90%
of the land surface and the entire ocean area within the region. The islands arose directly from
the sea as tips of huge submarine volcanoes. Throughout this vast natural haven
there are just 54 sites where visitors are allowed. These sites are pre-determined by the the National Park
Service in order to minimize the effect of tourism in the islands. You must be accompanied by a certified
naturalist guide while in the park and stay on established trails. Snorkelling is also only allowed in
designated areas. You cannot urinate in the Park or bring food into the Park.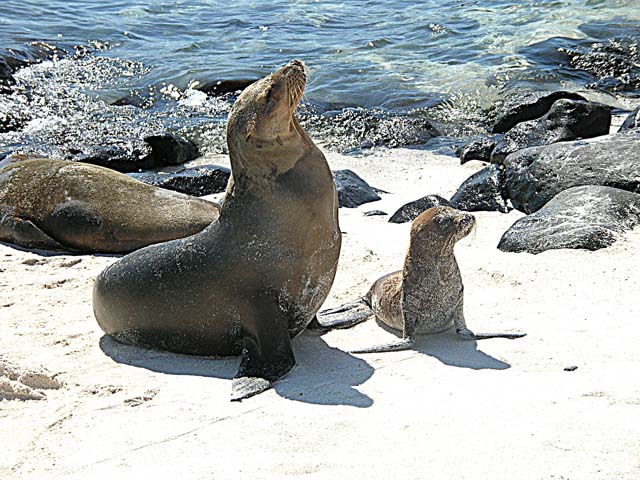 Mother and pup sea lions - The most common native mammal, Galapagos sea lions, a
subspecies of the California sea lion. They live up to 20 years. Dominant males patrol beaches and have mating
access to females as long as they can defend their territories, very demanding work. The mother sea lion bonds
with her pup by vocalization and smell. That's one reason why you must not touch the pups as the mother will
abandon a pup that has a human smell.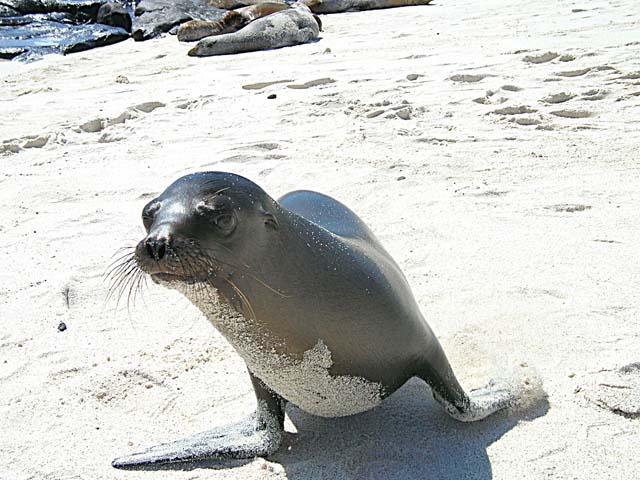 Females and pups are curious and have no fear of humans. This pup kept coming toward me and
eventually came too close to even take a picture. When we were snorkelling, we often saw sea lions in the
water with us. Once one swam alongside me.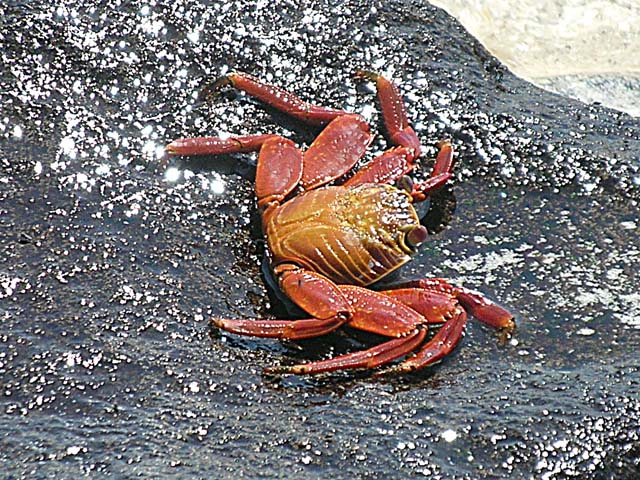 Sally Lightfoot Crab - often seen in large numbers. Scarlet and orange colored but the underside is white,
often bluish. Juveniles are much darker, starting almost black. Juveniles feed largely on algae and animal
detritus; adults feed on other crabs, including their own species, and small crustaceans.
Link to Page Two of Galapagos