The Baltic States, St. Petersburg, and Moscow
September 26 - October 14, 2013
Part One - Lithuania

Lithuania has a population slightly over 3.5 million with 25,174 square miles.
It is bordered by Belarus, Latvia, Russia, and Poland. It is a largely Catholic
country (about 80% Catholic), composed of Lithuanians (over 80%), Polish (about 7%),
Russians (6%), and other ethnicities (about 4%).
Like other Baltic states, the land is low-lying. Its history began in the Stone Age
when groups arrived from what is now modern Poland and modern Denmark.
In the 1400s, Lithuania and Poland became partners and created
an empire as a result of an alliance between royal families. A two-state
Commonwealth was established in 1569 that lasted until the Russian Empire
took over most of Lithuania's territory in the late 1700s. At the end of World War I
Lithuania became independent for a short time. In 1939, Russia and Germany
secretly signed the Molotov-Ribbentrop Pact that divided Europe into spheres
of influence. Lithuania ended up in Russia's sphere.
Starting in 1940, it was first occupied by the Soviet Union, then by
by Nazi Germany. As the Germans retreated in 1944, the Soviet Union
reoccupied Lithuania. On March 11, 1990, a year before the formal
break-up of the Soviet Union, the country became the first Soviet Republic to
declare the restoration of an independent state. The Soviet Union
tried unsuccessfully to suppress the secession by imposing an economic
blockade and troops attacked the Vilnius TV Tower in 1991, but Russia gave up in September.
Lithuania is now a member of the European Union and is planning to
switch to the Euro.

Page One - Vilnius, the capital city, and nearby Darguziai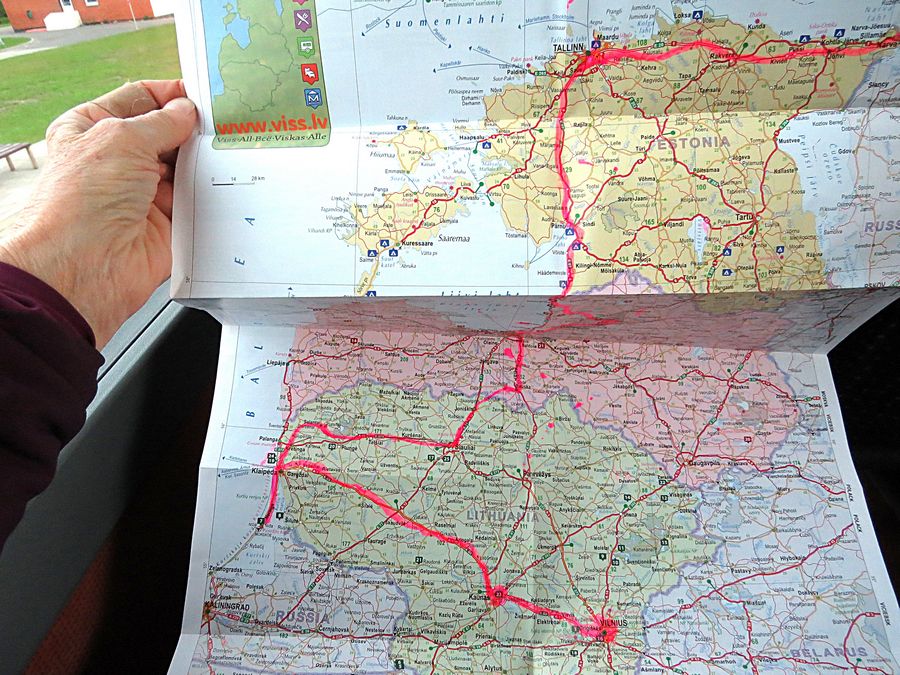 Baltic States and St. Petersburg and Moscow Trip
Map outlining the route taken, starting in Vilnius, Lithuania
and traveling by van to St. Petersburg and then plane to Moscow.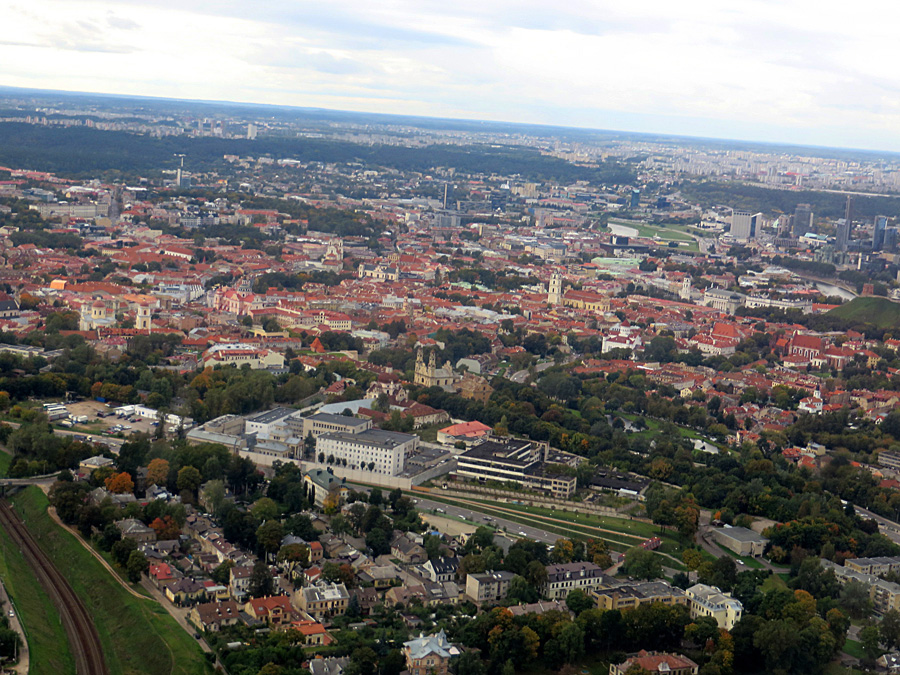 Flying into Vilnius from Denver after stopovers at Dulles Airport in Washington, D.C. and in
Brussels, Belgium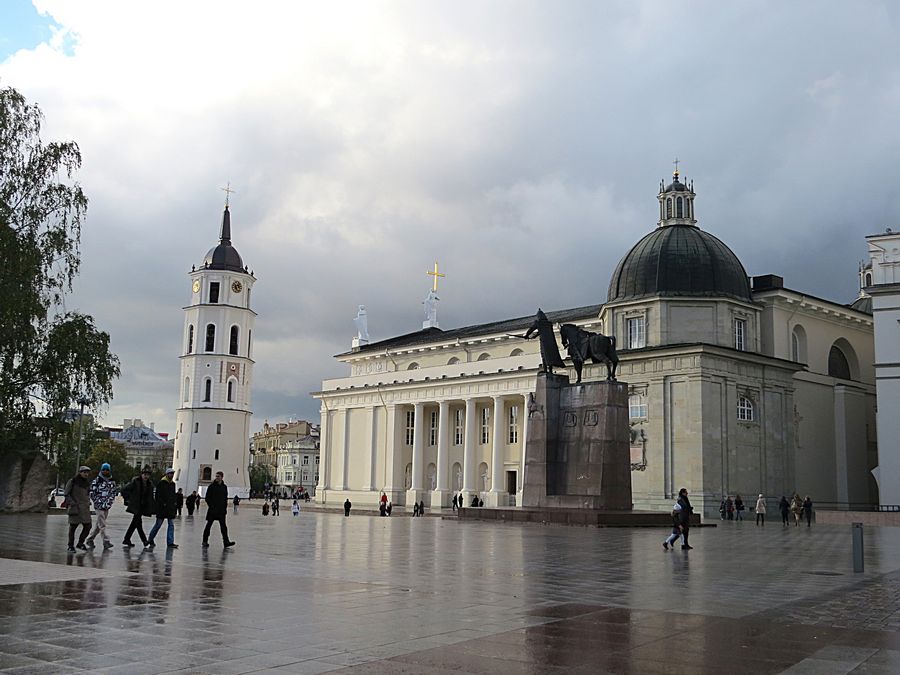 Vilnius Cathedral first built in 1251, a national symbol.
The current building dates to about 1419.
The bell tower is a common meeting place in the city.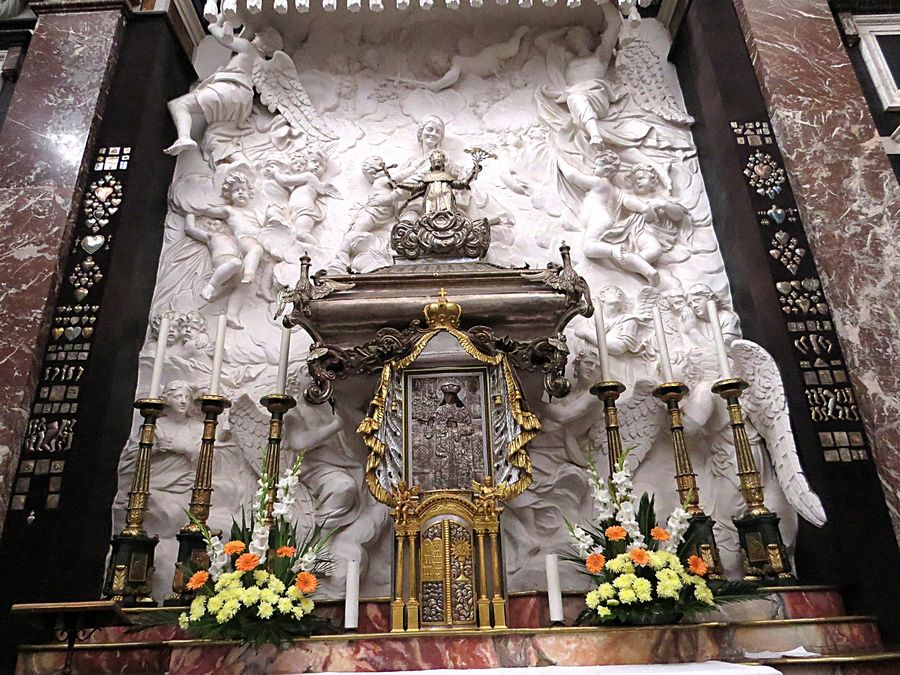 St Casimir's Chapel is the Cathedral's showpiece,
built in 1636 to house his remains. St Casimir
is Lithuania's patron saint.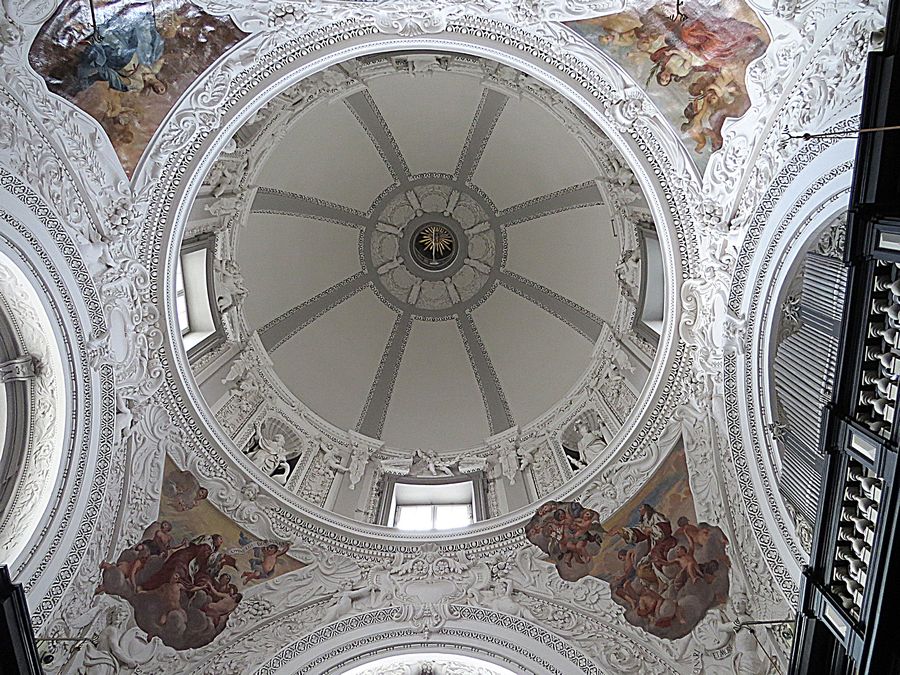 Ornate ceiling of Vilnius Cathedral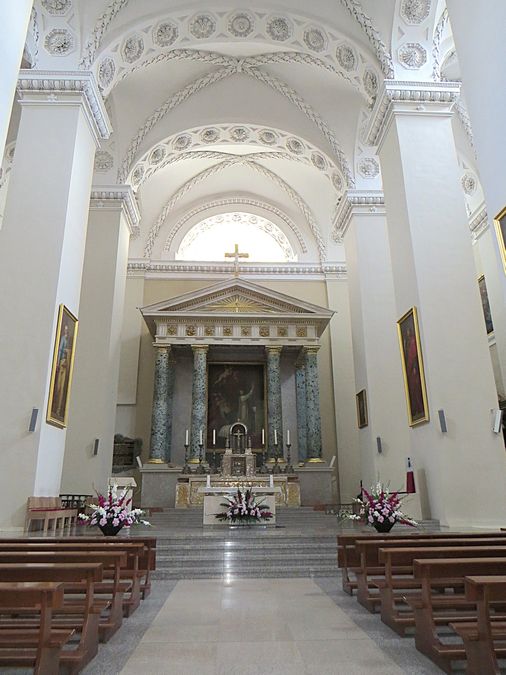 The Cathedral has 11 chapels.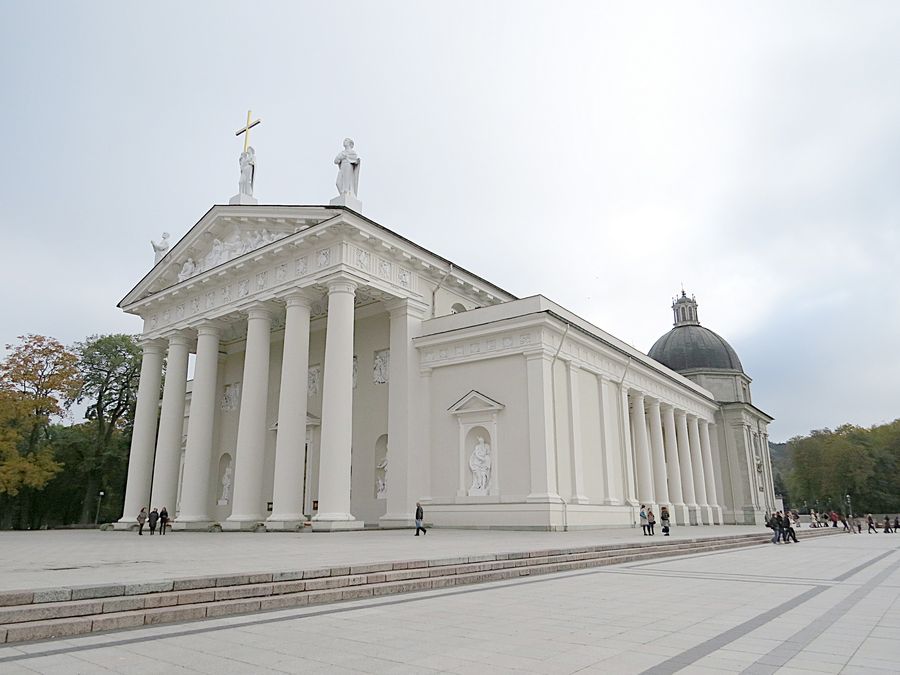 The 3 statues on the roof of the Cathedral
are Saints Stanislaus, Helena, and Casimir,
representing Poland, Russia, Lithuania.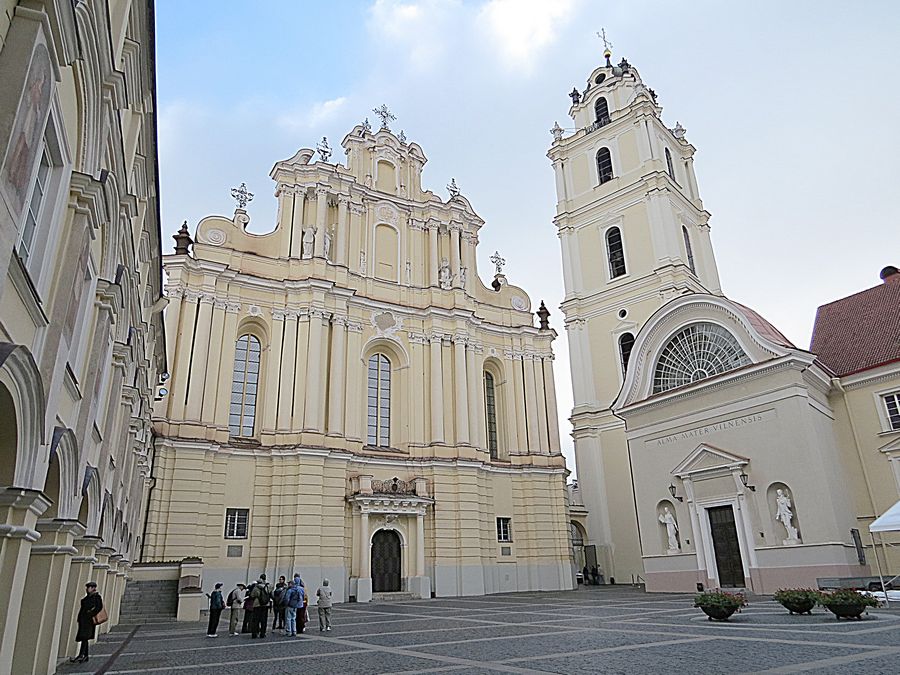 Vilnius University - the oldest University in the Baltic States
Founded by Jesuits in 1579.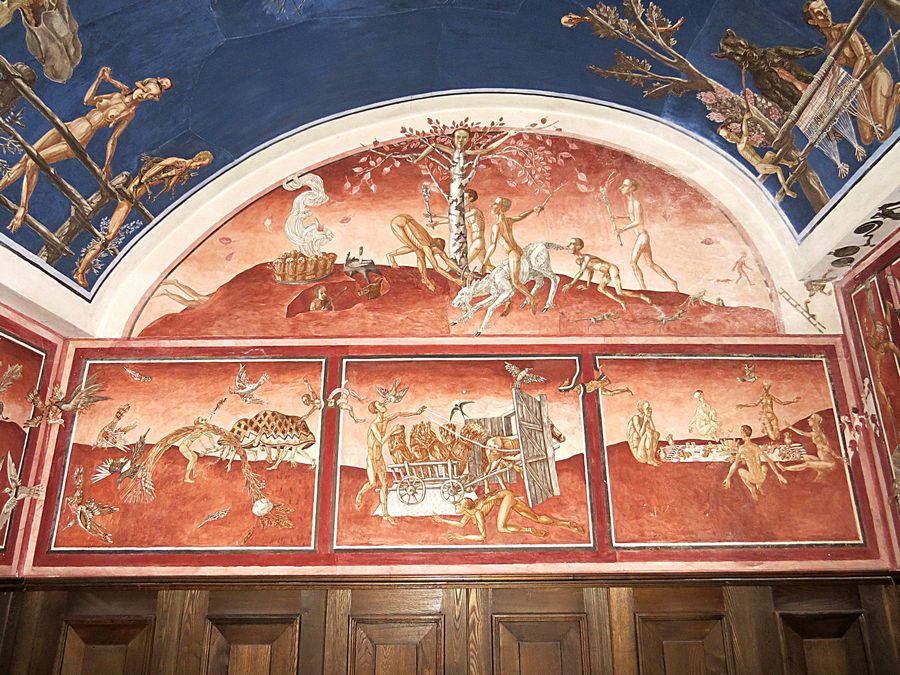 Drawings inside one of the University buildings.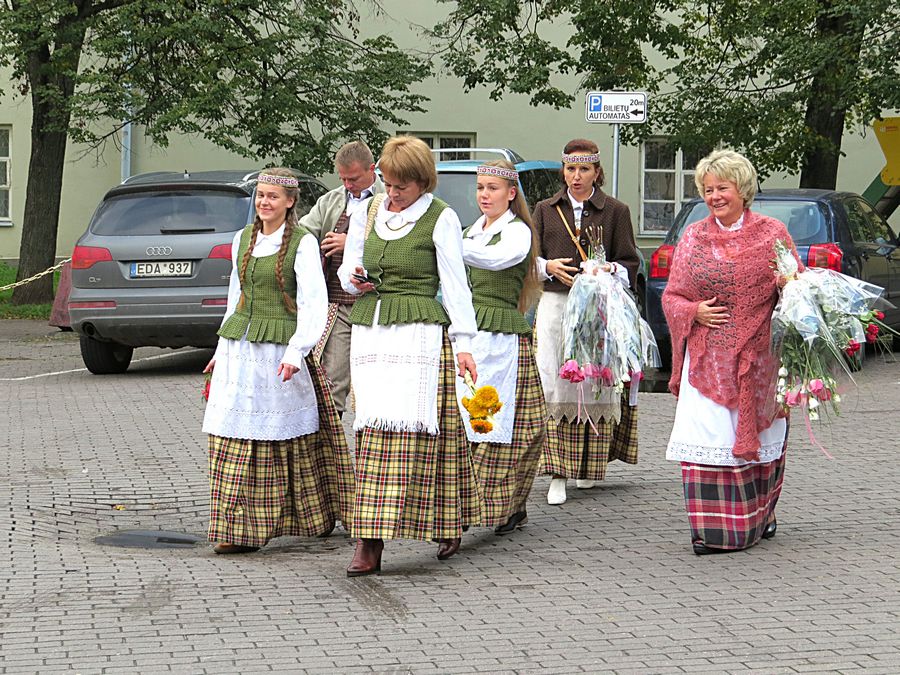 Women wearing traditional dress in Vilnius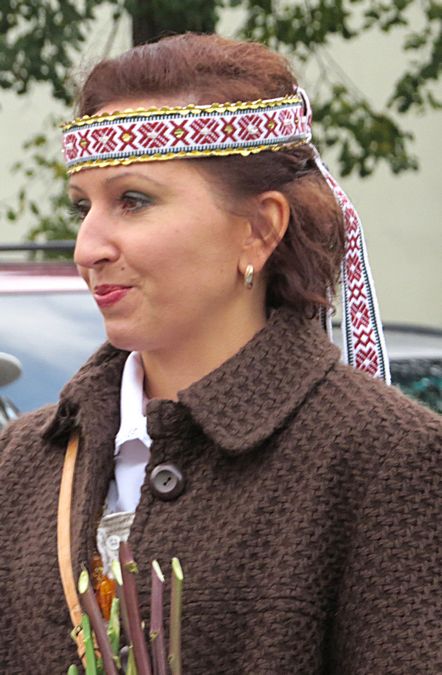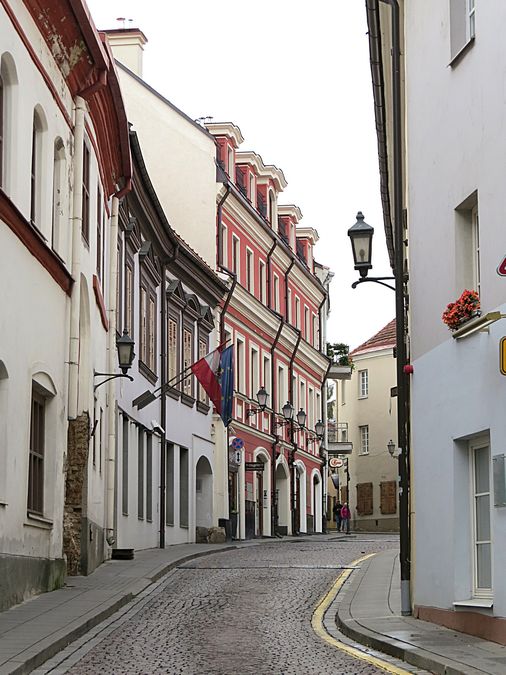 Typical, narrow cobble stoned street in
Old Town Vilnius dating back to the 15th & 16th
centuries. The Old Town has narrow winding streets,
old churches, hidden courtyards.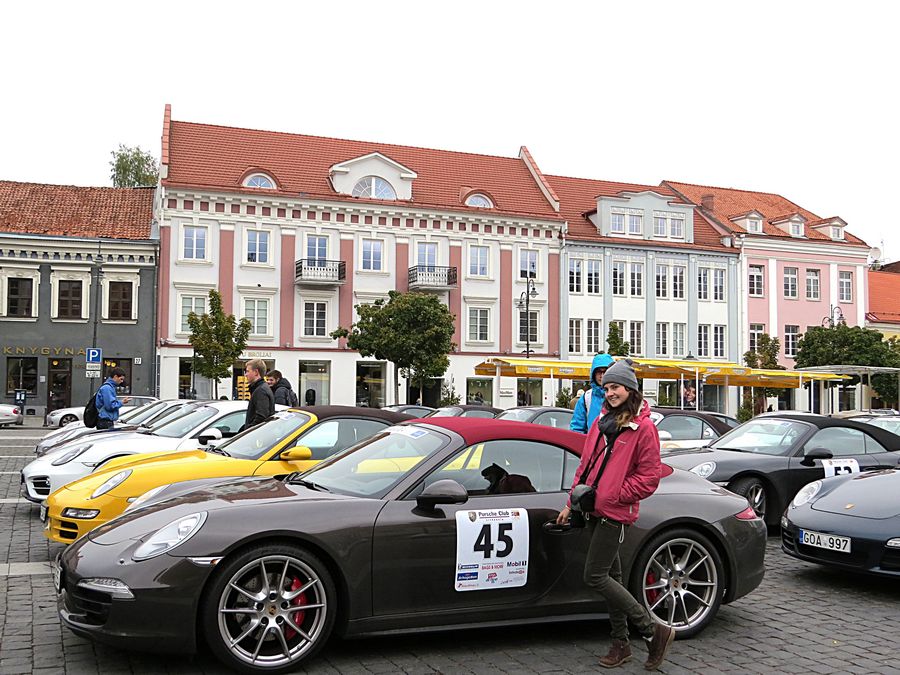 There was a Porsche exhibit in town.
Lithuanian tourists were having fun posing with the cars.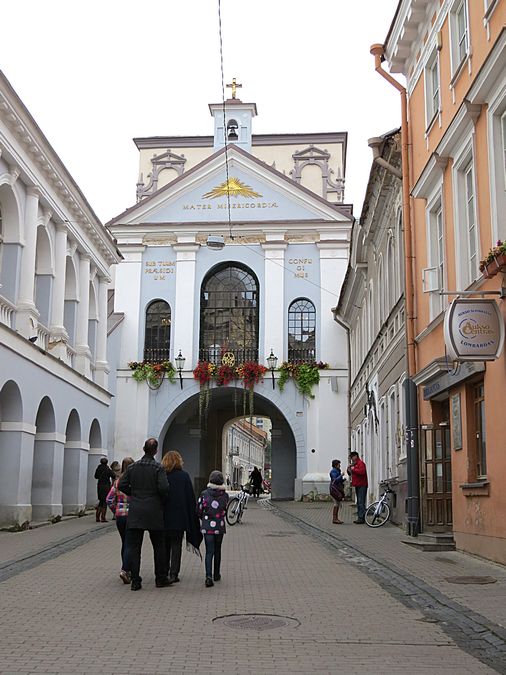 Mater Misericordia Church above old city gate.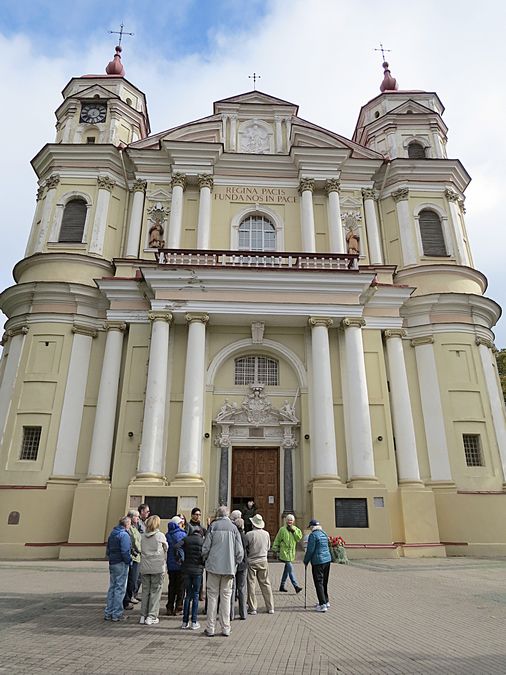 St Peter and St Paul Church in Vilnius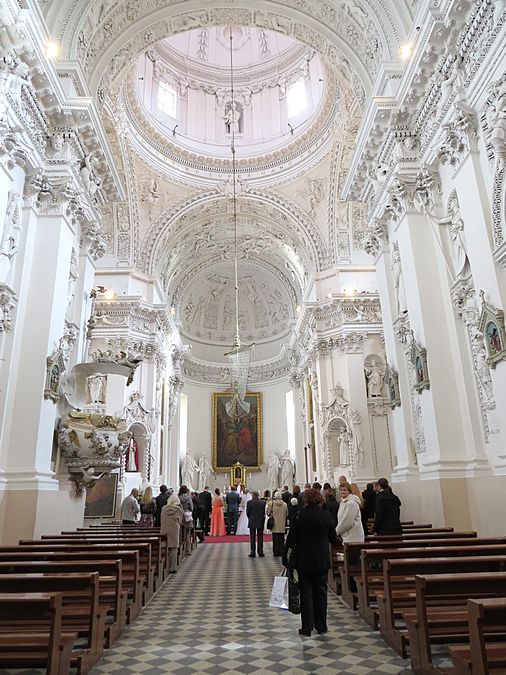 Beautiful baroque interior of St Peter and Paul Church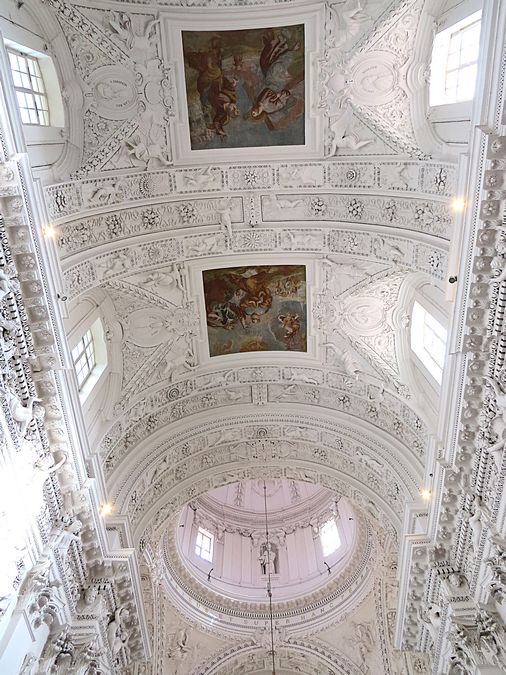 The Church is adorned with ornate white sculptures,
created by Italian sculptors between 1675-1704.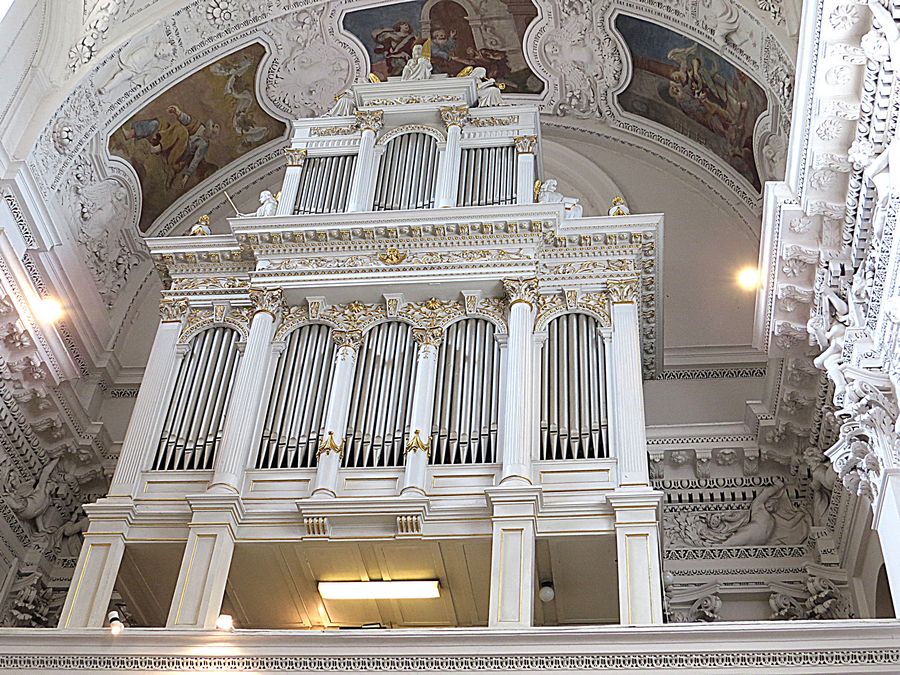 Church organ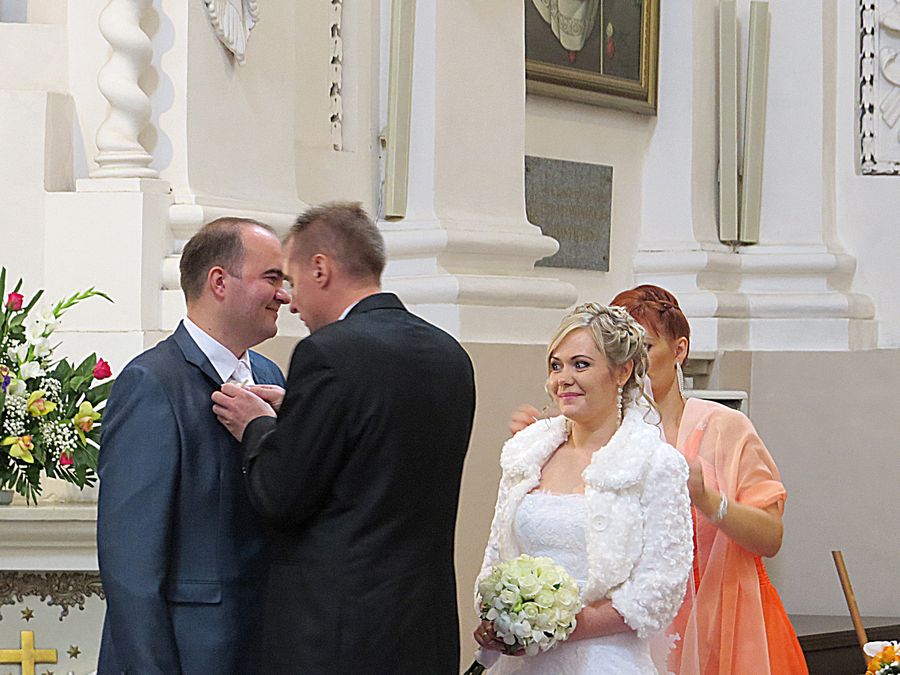 Wherever we went on this trip, we saw weddings.
This is inside St Peter and St Paul Church, shortly before
this wedding party left the Church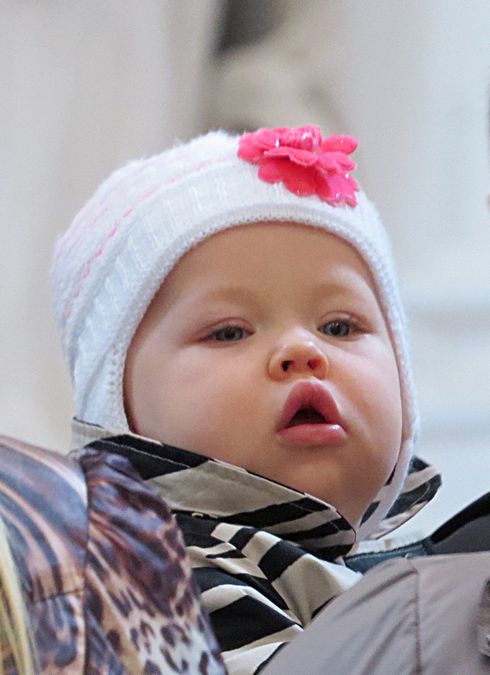 Baby whose family was attending the wedding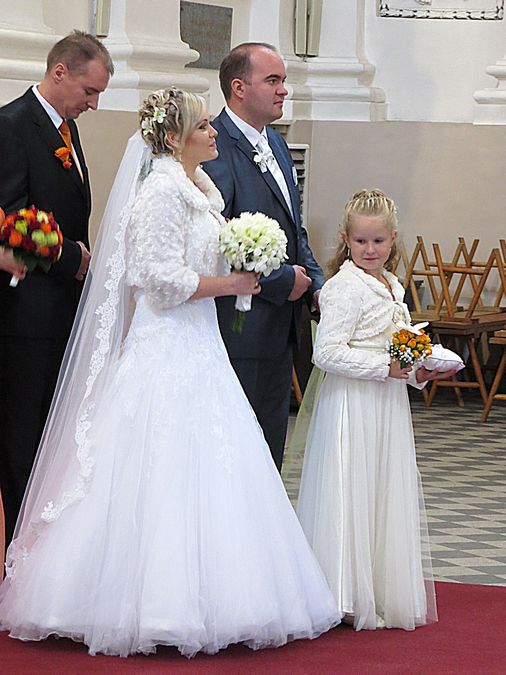 Leaving the Church. As soon as this wedding
party was gone, another wedding party came in.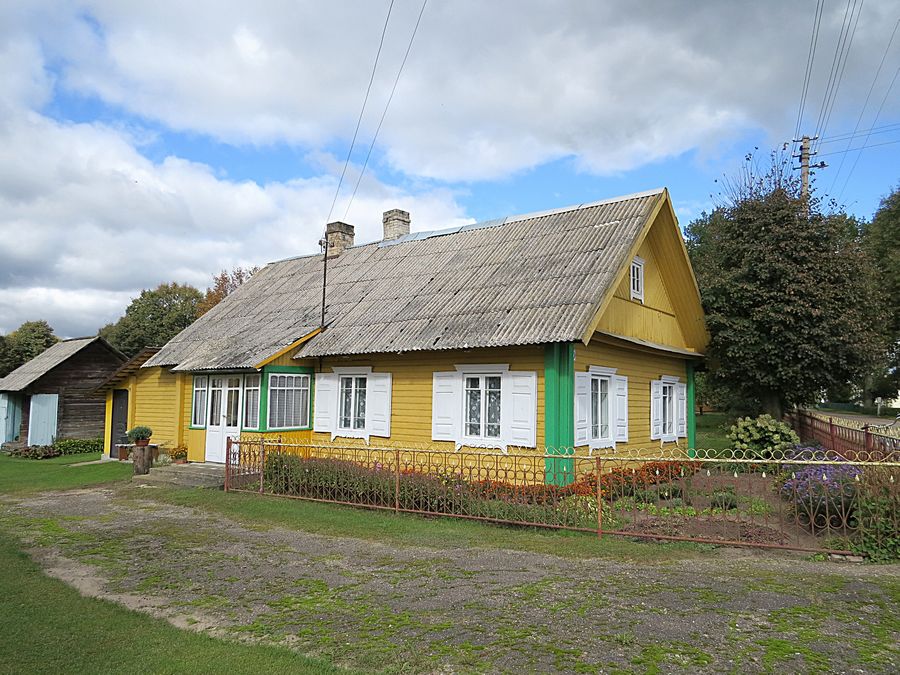 We drove to nearby Darguziai to experience a
Lithuanian farm village. Here is one of the farm homes.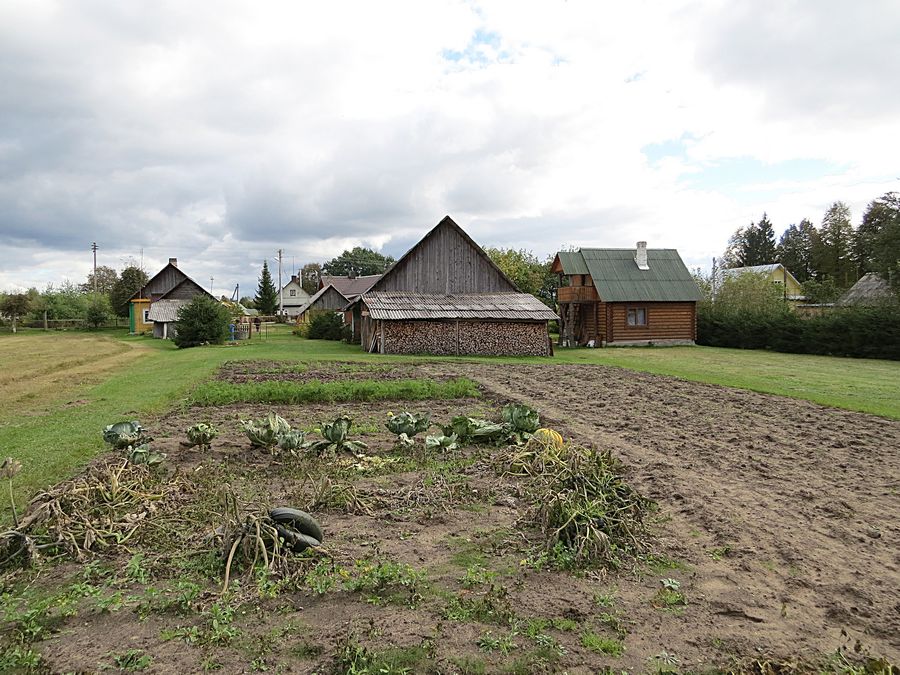 Here's the farm house and some of the grounds
where some of us had a home-hosted lunch.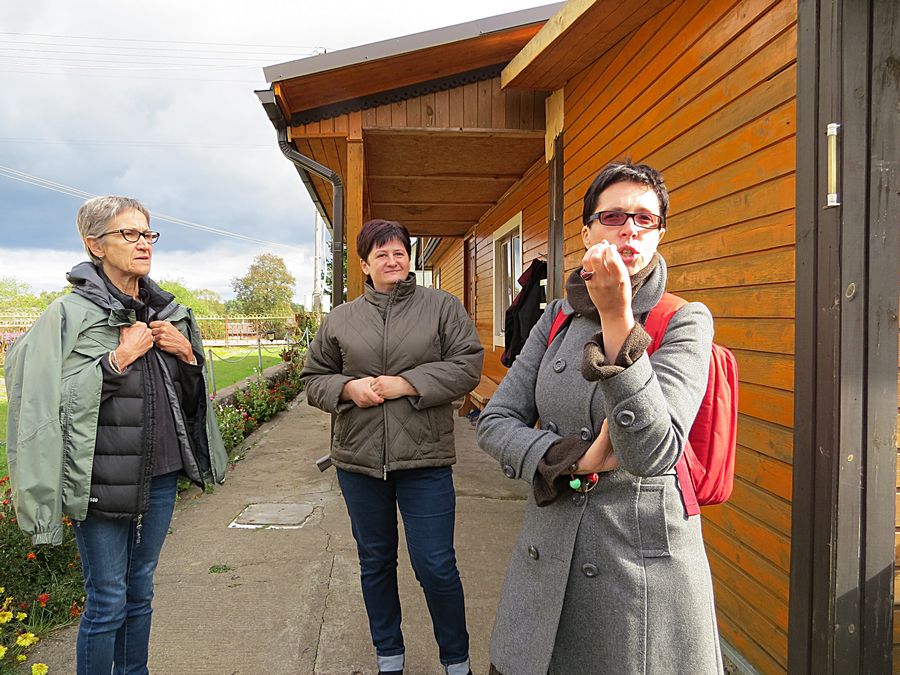 Tour participant Martine with our farm hostess
in the middle and local tour guide to the right.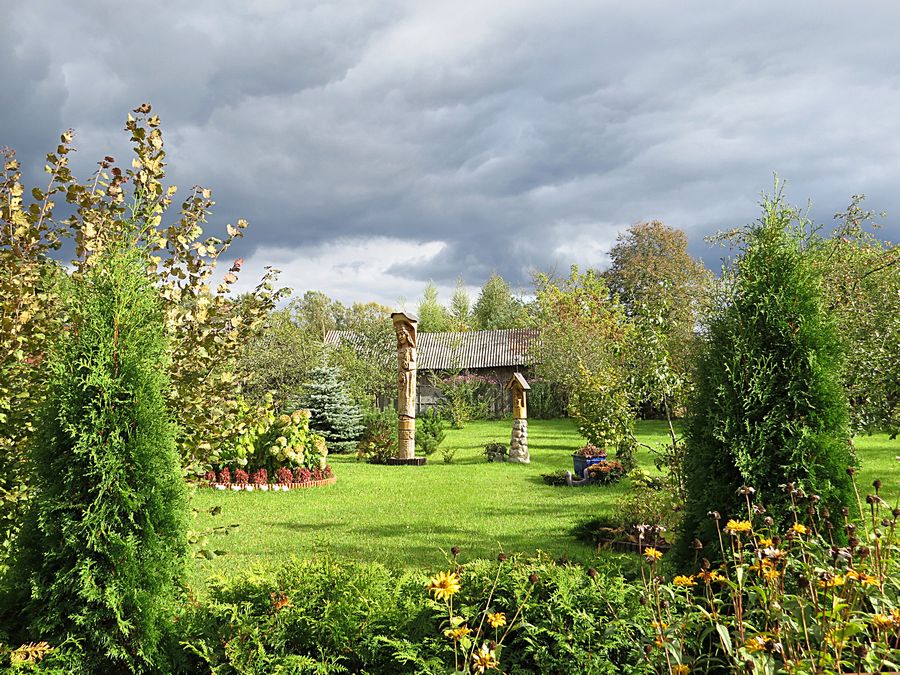 Wooden sculptures and garden next to nearby farm.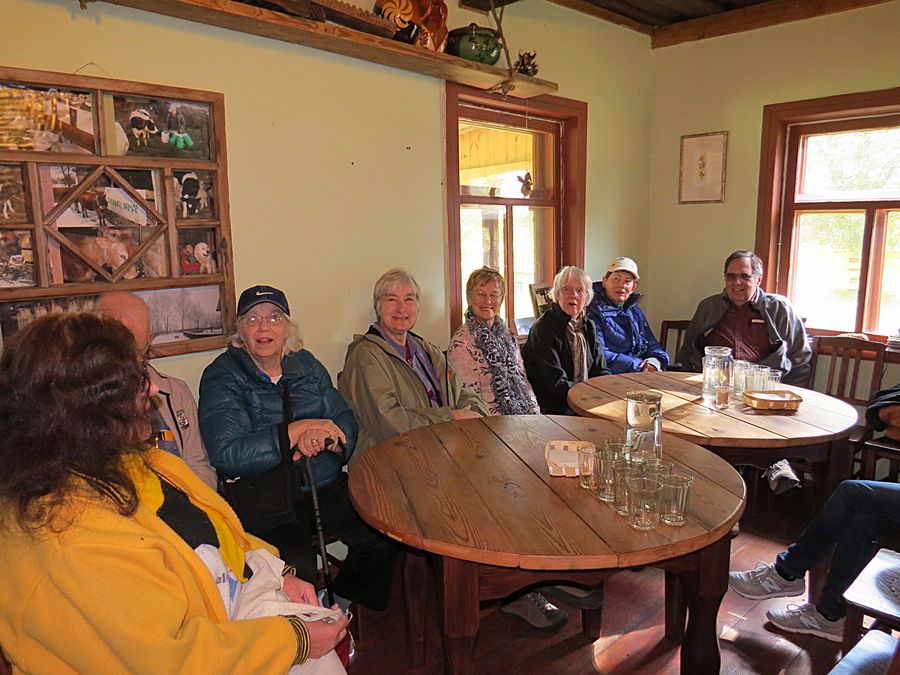 Some of the group waiting to hear about local
cheese-making traditions at the village's famous
cheese house.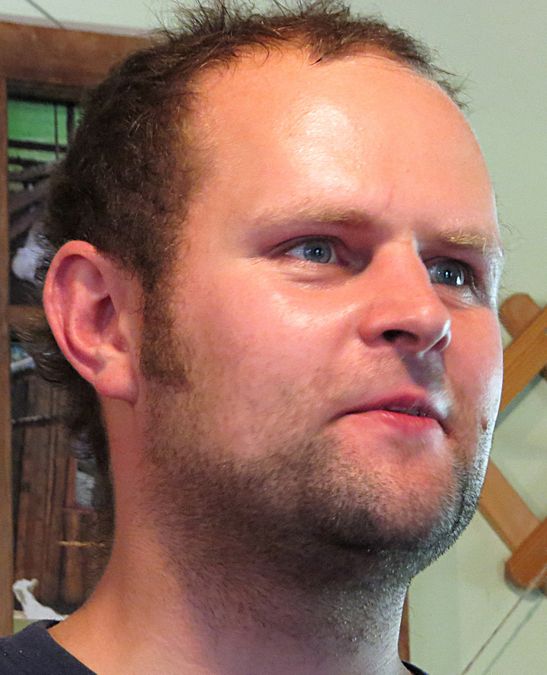 Son of the founder of the cheese house talking to us
about their cheese making.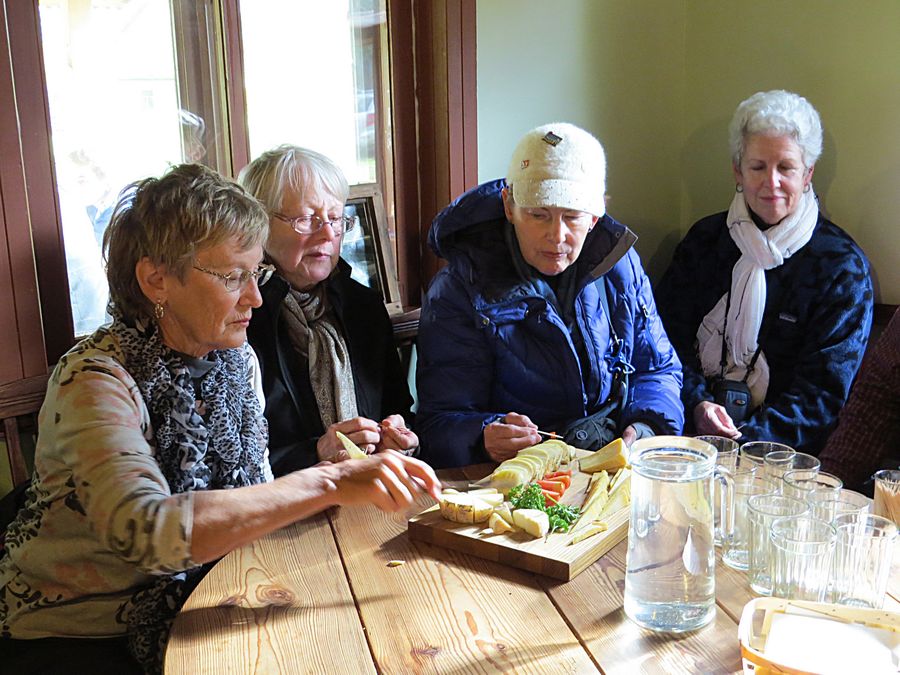 Sherry, Lora Lee, Nancy, and Joan sampling the cheese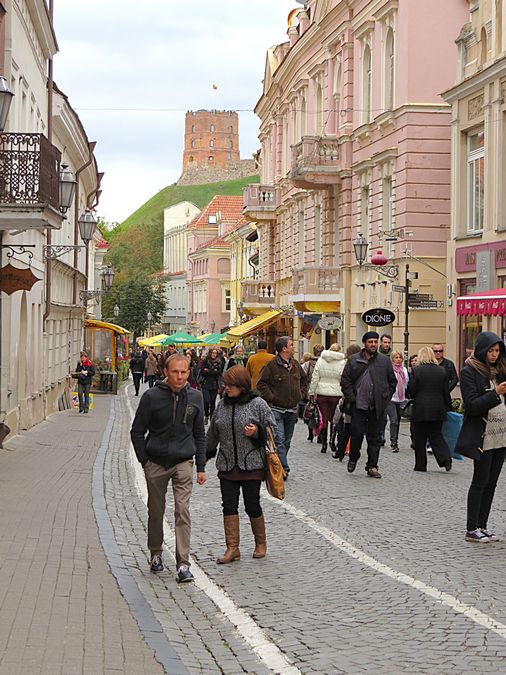 Back in old town Vilnius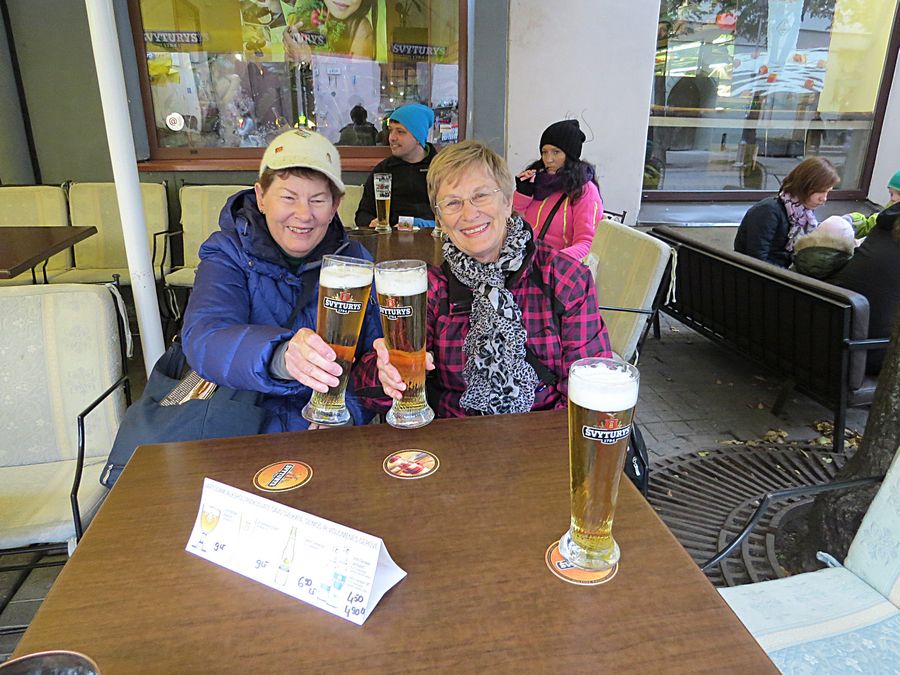 Nancy and Sherry enjoying a local beer outdoors
in Vilnius. The third beer is mine.

Link to Page Two - Trakai and KGB Museum

Pat's Home Page