Tour du Mont Blanc (Mont Blanc Circuit)
July 4 - July 20, 2014
Part One - Advance stay in Chamonix, France

Page Two - Auguille du Midi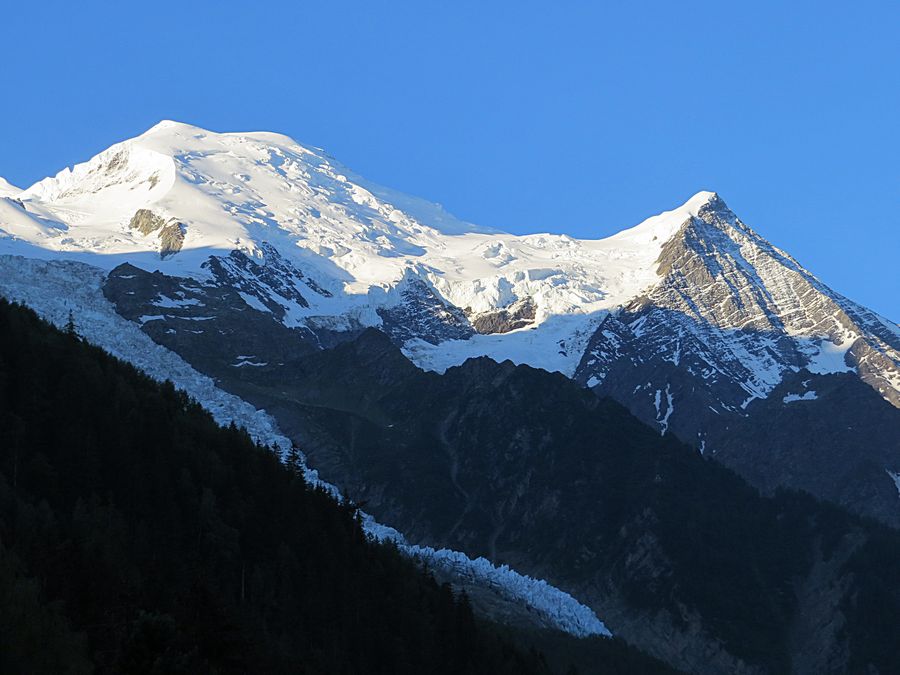 View from our balcony early morning July 6 of
Dome du Gouter and Aiguille du Gouter and Bossons Glacier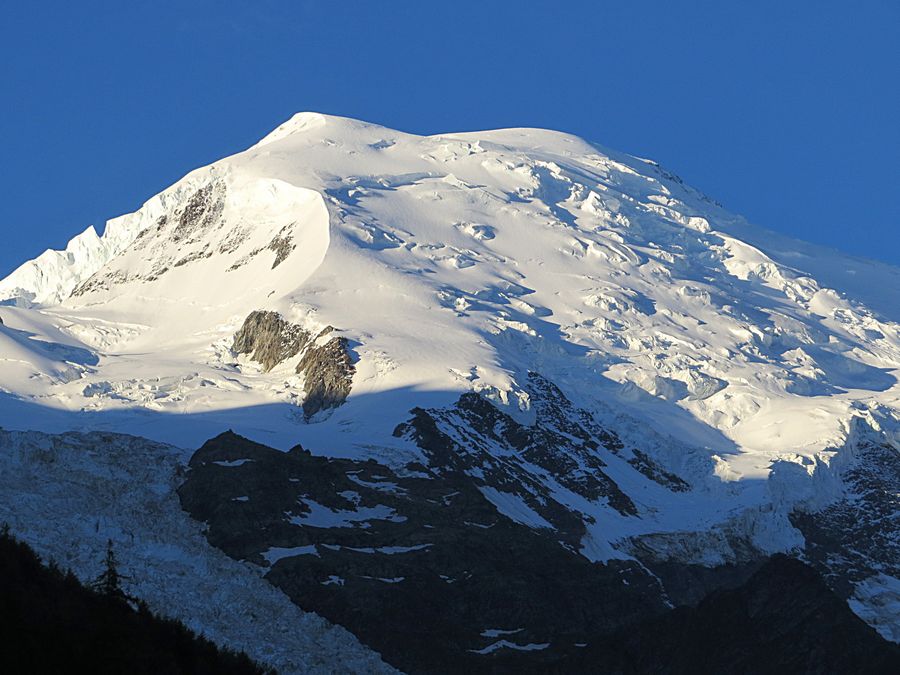 Close-up view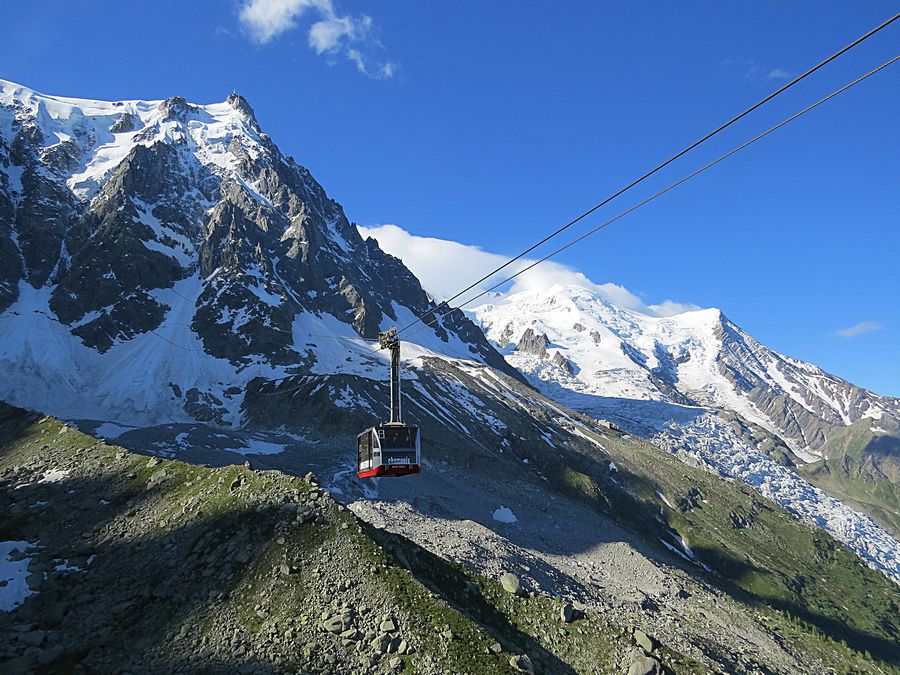 Sunday morning July 6 we took a cable car to the Aiguille du Midi.
The name translates literally as Needle of the Midi.
The cable car to the summit was built in 1955 and holds the record as the highest
vertical ascent cable car in the world, from 3,396 ft. to 12,605 ft.
There are two sections: from Chamonix to Plan de l'Aiguille at 7,602 ft.
and then directly, without any support pillar, to the upper station at 12,392 ft.
(the building has an elevator to the summit).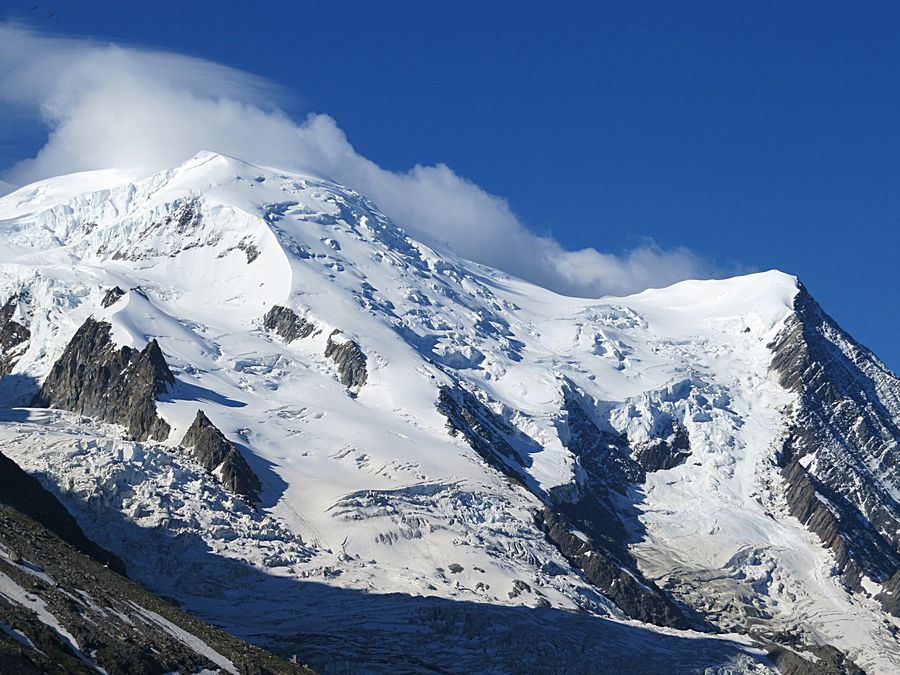 View from intermediate platform while we were waiting to get next
cable car to the top platform at the Aiguille du Midi.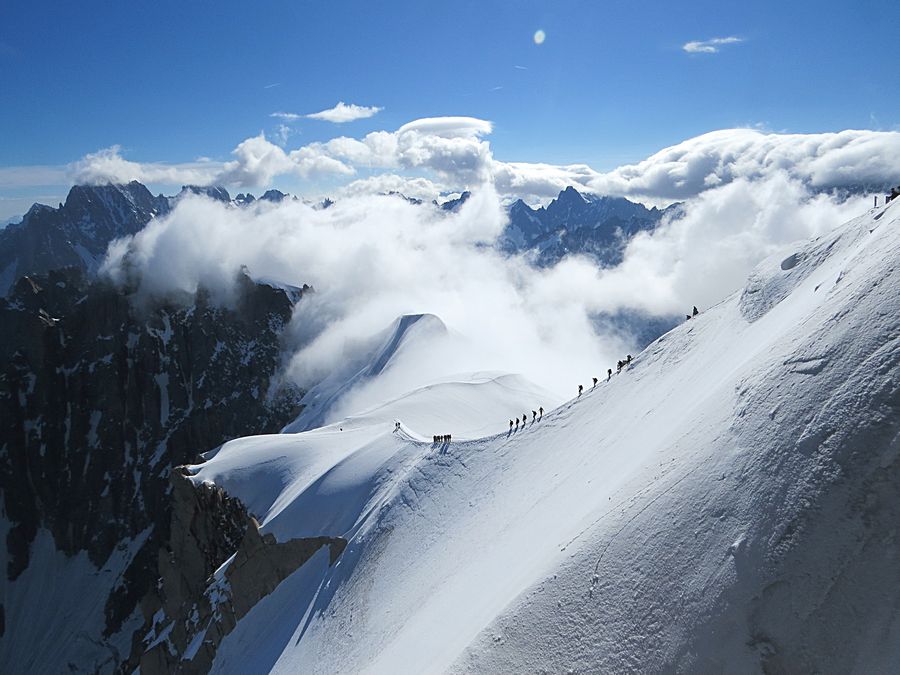 View of climbers from Aiguille du Midi summit viewing platform.
The following photos were all taken from the viewing areas that
offer a 360 degree view of the French, Swiss, and Italian Alps.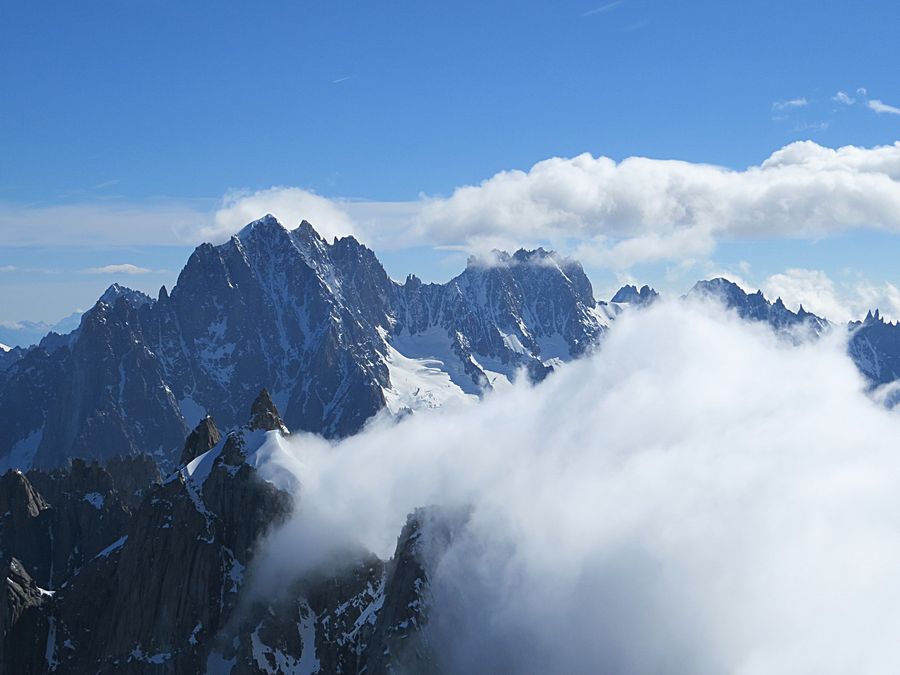 Center left is Aiguille Verte, with Les Droites to right. Below left are some of the Needles of Chamonix or Aiguilles des
Chamonix, called that because they are the Needles above Chamonix.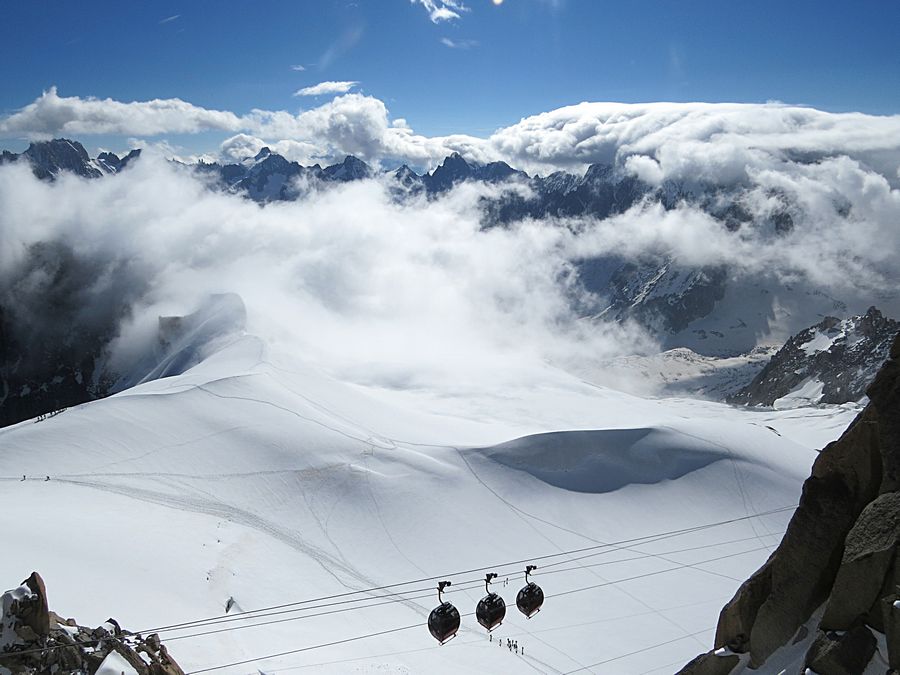 Helbronner cable cars. We did not take this cable car ride. Below is the Vallee Blanche, a famous ski run.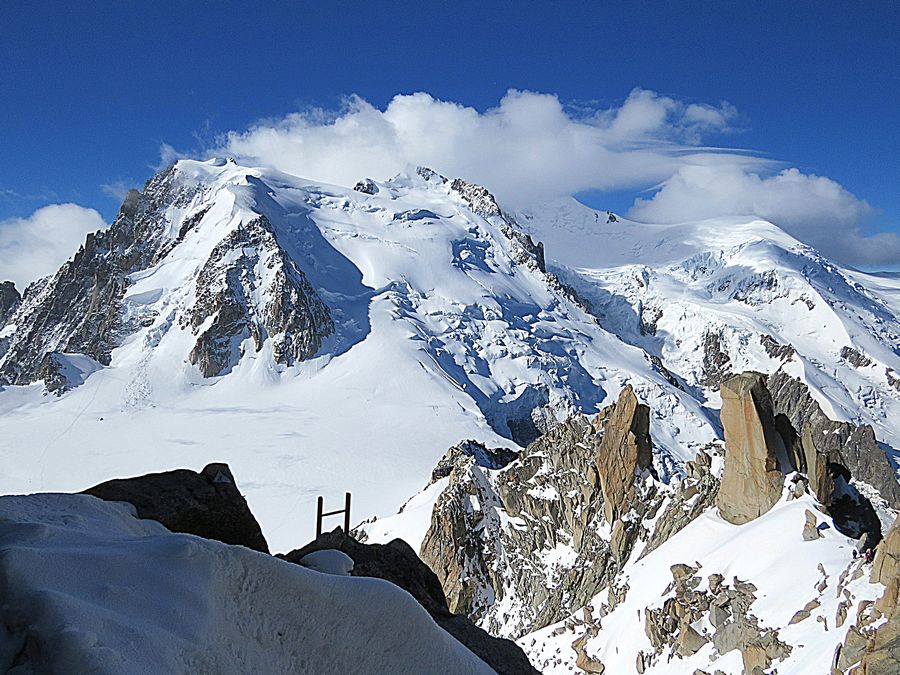 Mont Blanc summit is behind in clouds with Mont Blanc du Tacul, 13,937 ft., and
Mont Maudit, 14,648 ft (pointed mountain in the center of photo) in front of it.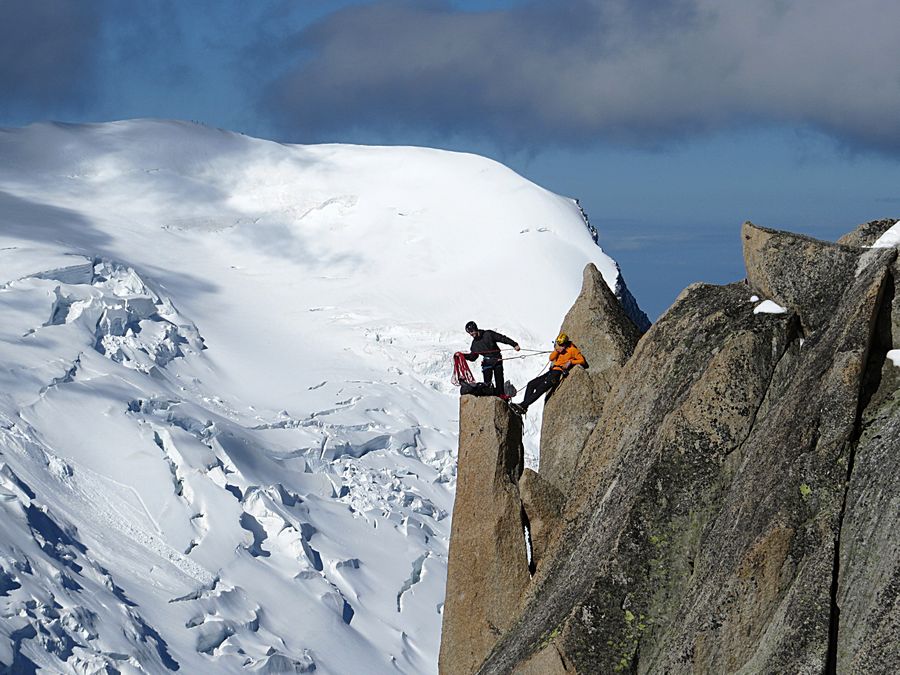 Climbers with part of Mont Blanc in background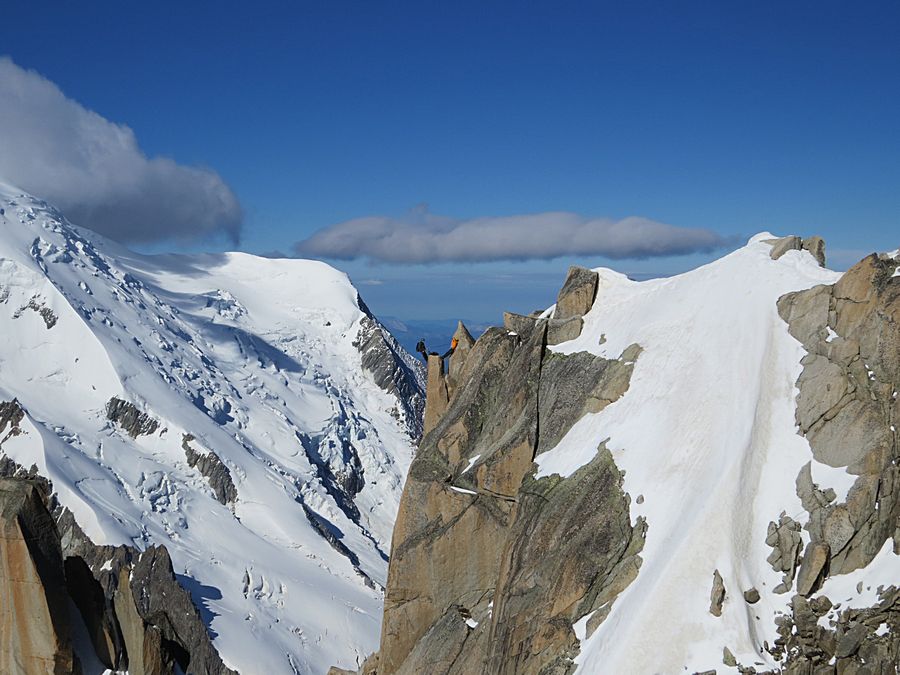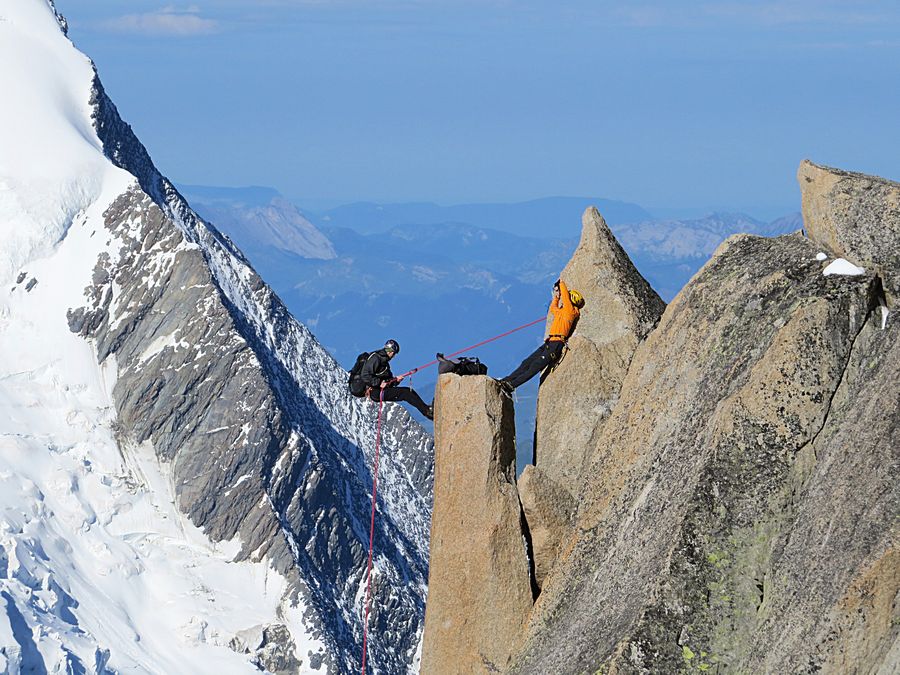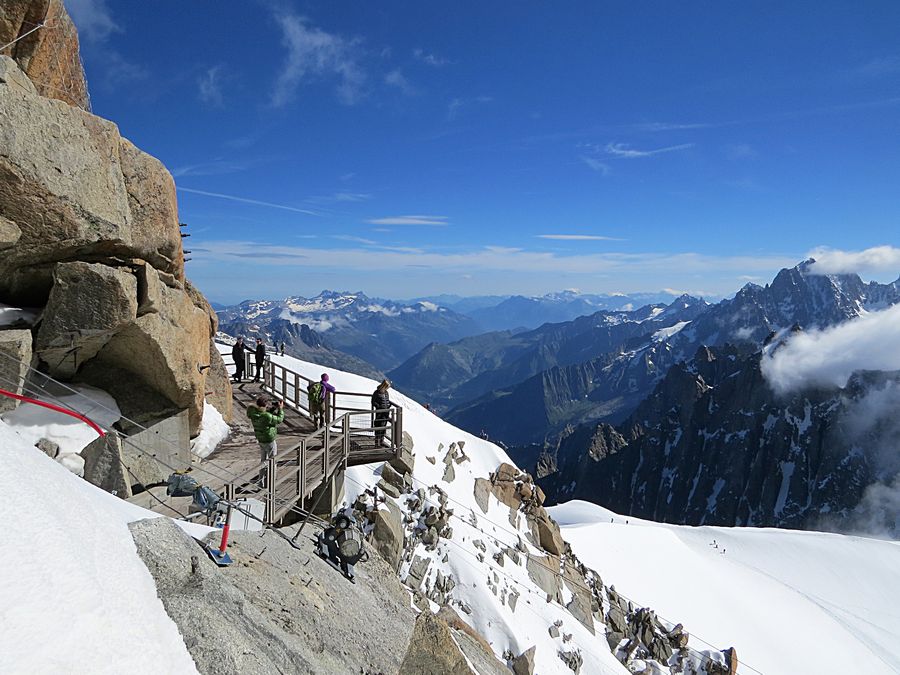 View looking basically north. Aiguille Verte to far right.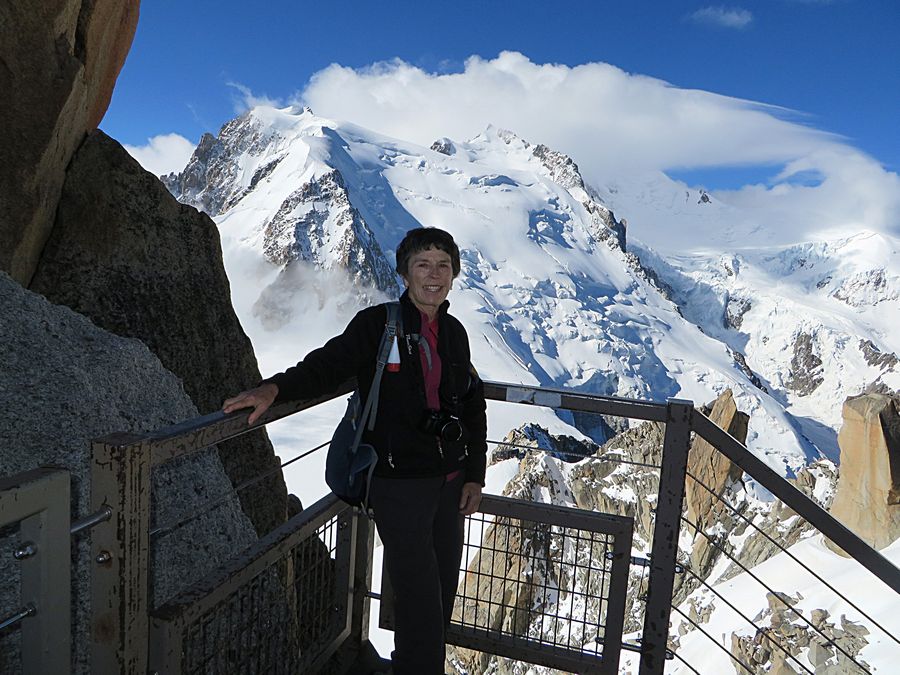 Pat on a section of the viewing platform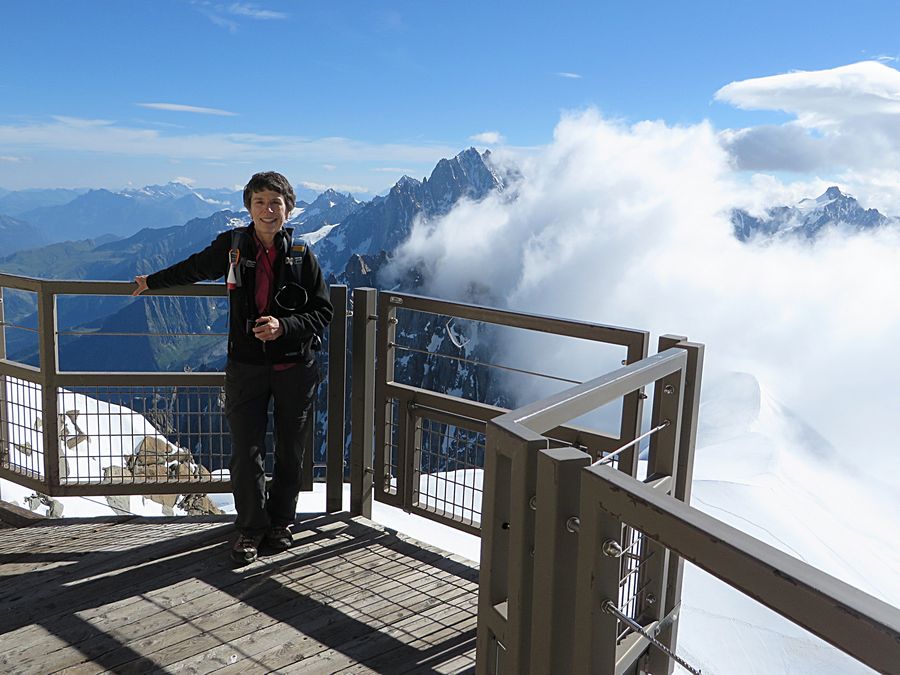 Pat with view toward Aiguille Verte (the Verte Needle)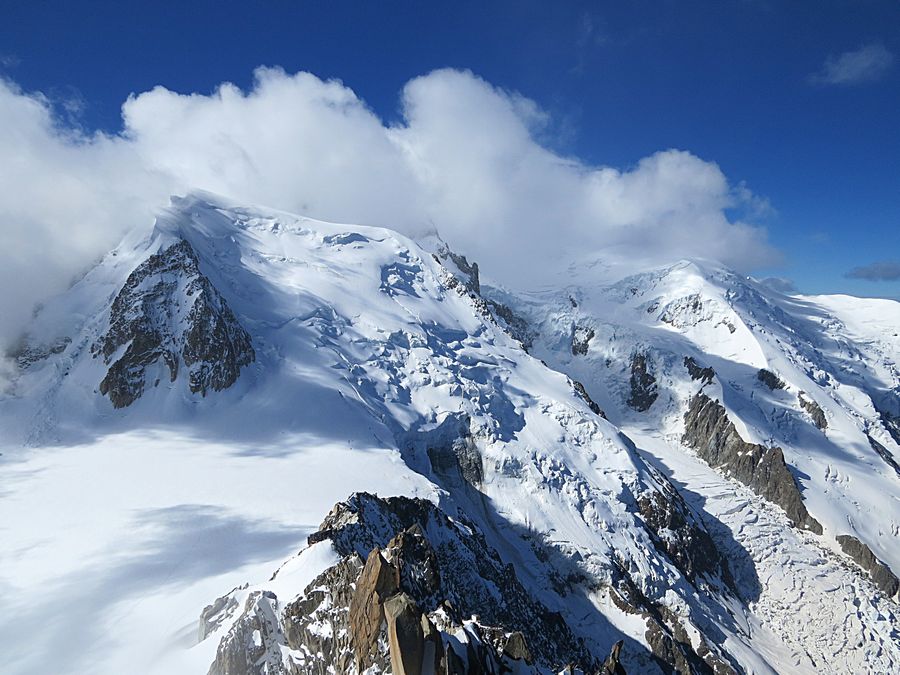 Clouds now covering both Maudit and Mont Blanc summits and
some of Mont Blanc du Tacul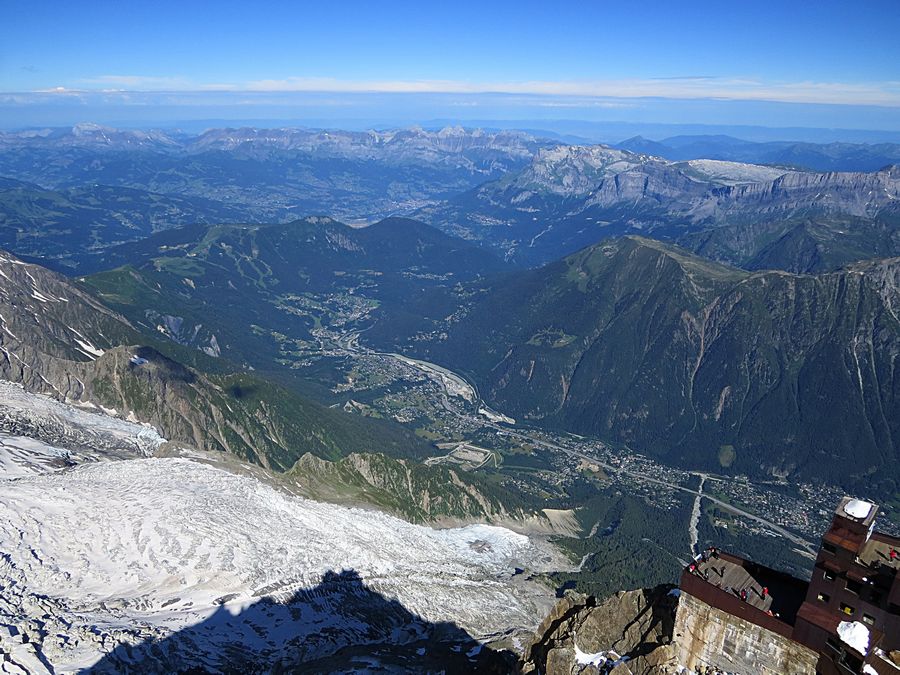 Looking down into the Chamonix Valley and beyond, to the west,
from Aiguille du Midi, after taking the elevator to the top platform.
Bossons Glacier in the foreground. On the guided tour,
we started hiking this direction from Chamonix,
hiking counterclockwise around Mont Blanc Massif.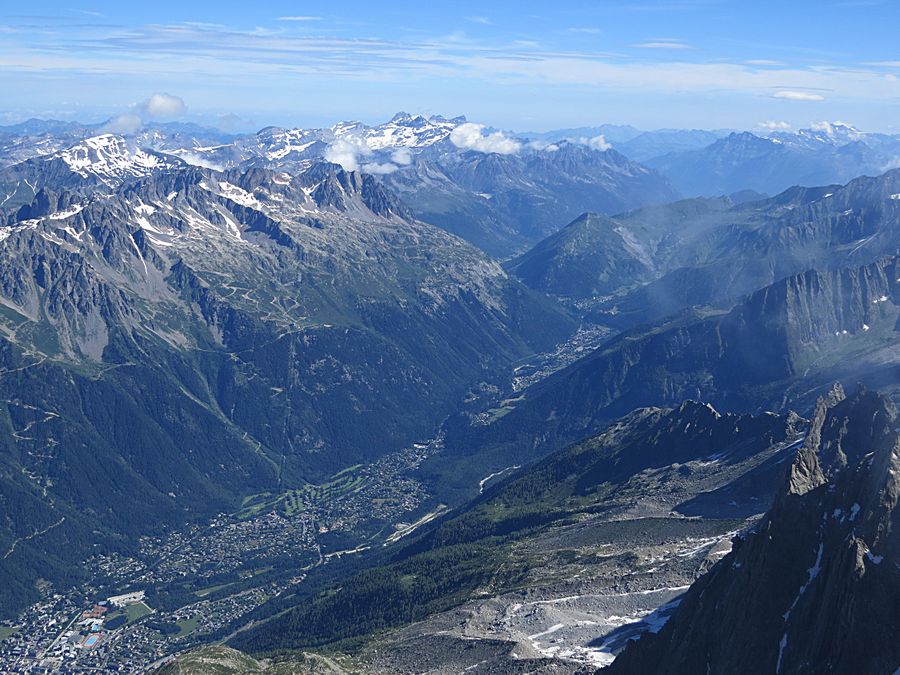 Chamonix Valley looking basically north and east.
Immediately across valley is Aiguilles Rouge Range.
We traversed that area our last day of the guided Mont Blanc Circuit tour,
then took Flagere tram down into Chamonix.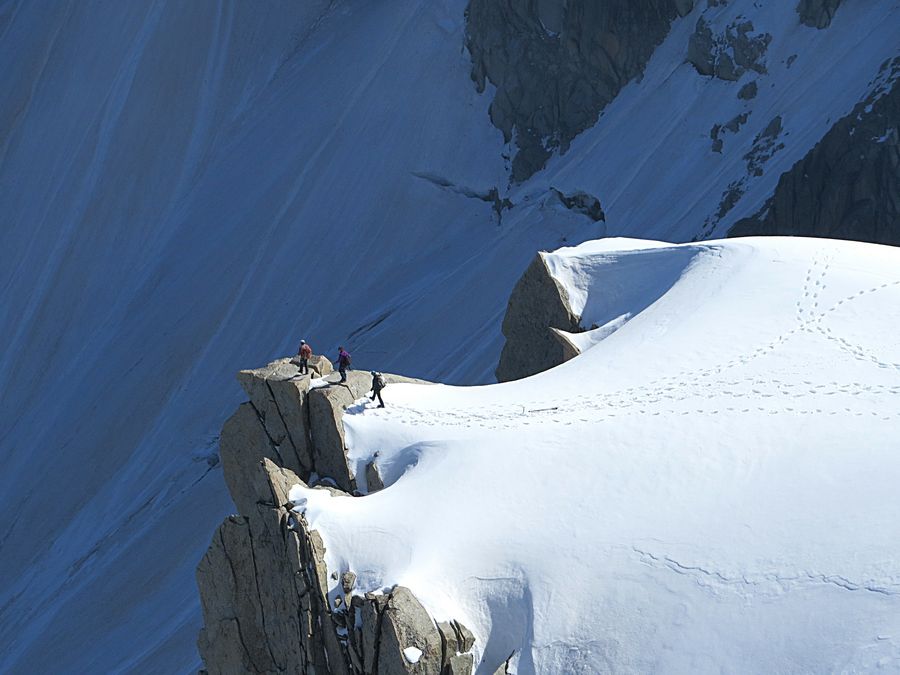 Climbers edging toward a cliff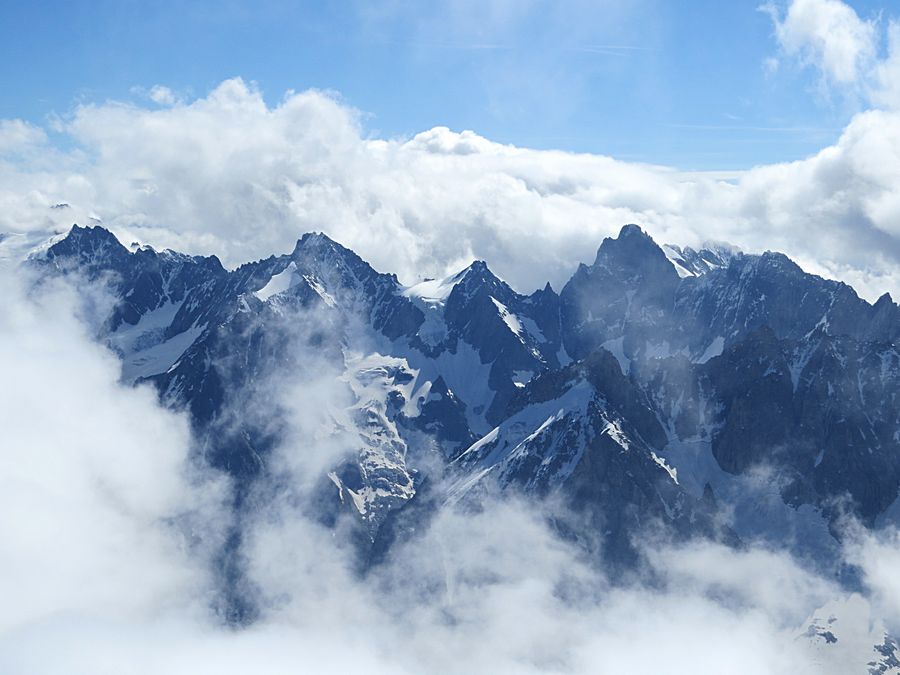 From Aiguille du Midi, looking at aiguilles to the west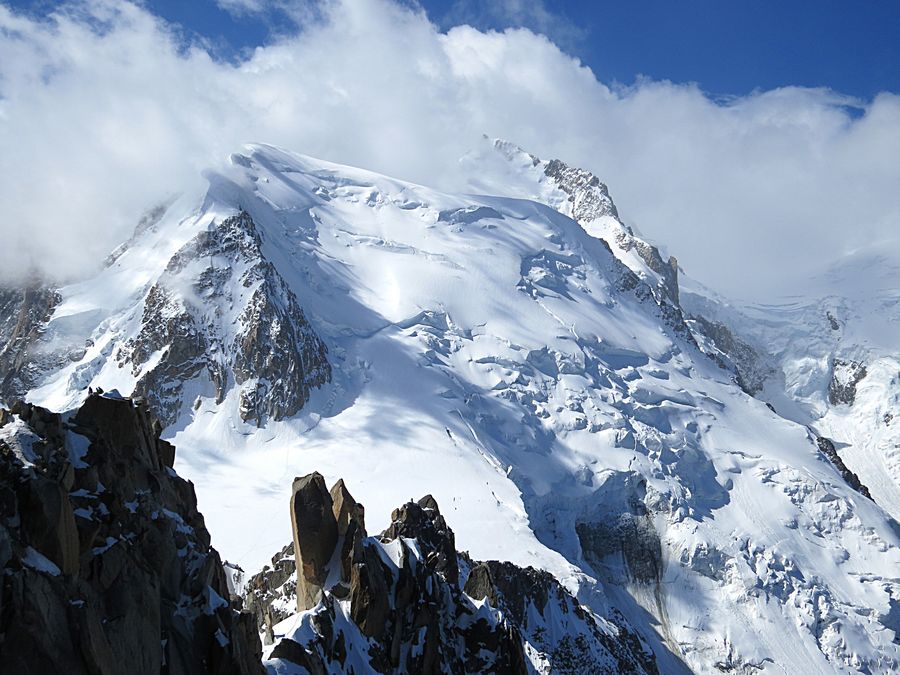 Another view of Mont Blanc du Tacul and Mont Maudit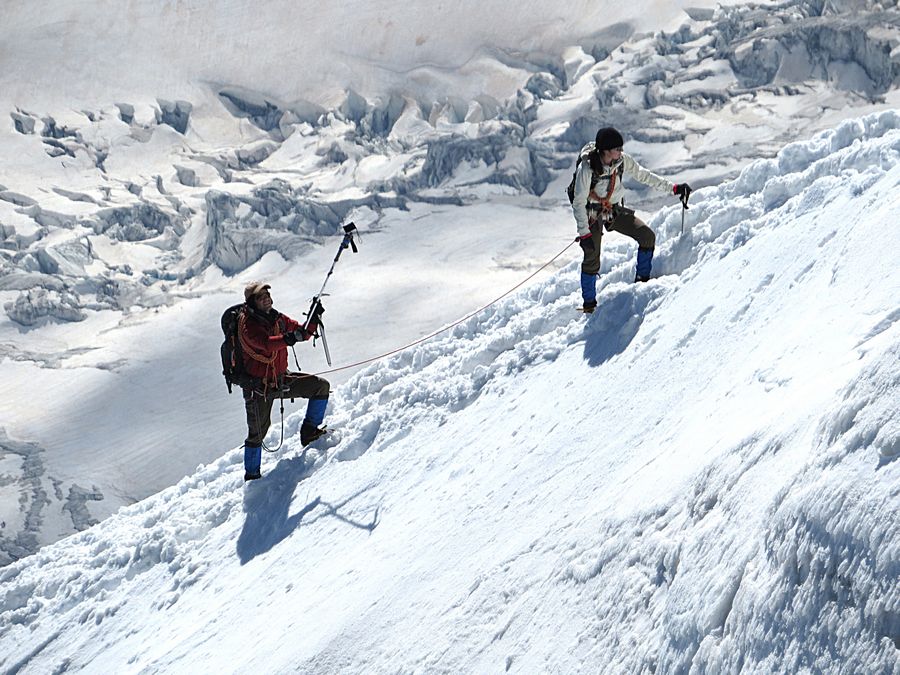 Close-up of 2 climbers as seen from viewing platform.
Note camera on the end of the hiking pole.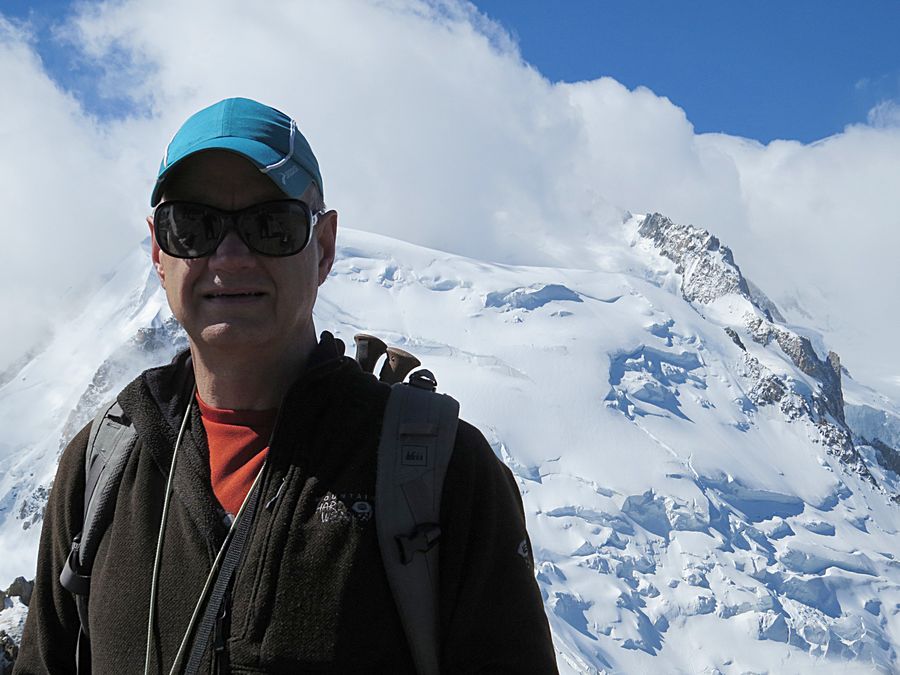 Jeff in front of part of the Mont Blanc Massif
on top platform of Aiguille du Midi building

Link to Page Three - Hiking from Auguille du Midi area

Pat's Home Page